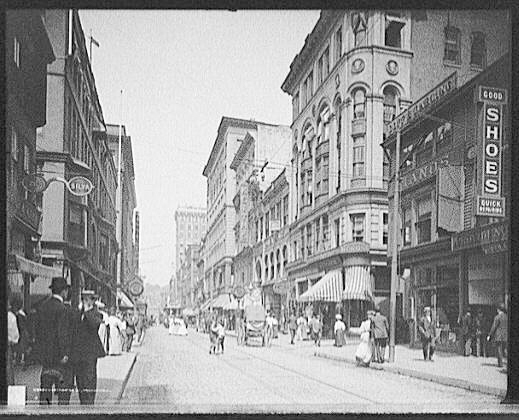 c1906. Westminster St. in Providence, Rhode Island. Providence was the city hardest hit by the pandemic in Rhode Island. [Credit: The Library of Congress]
Although the state did not report their mortality and morbidity figures to the Public Health Service (PHS) until November, the first cases of influenza in Rhode Island probably occurred during early or mid September. On November 1st, state officials finally filed their first report with the PHS. This report stated that between September and November, deaths from influenza had averaged about fifty per day. However, as state officials were often incapable of collecting accurate reports during the height of the pandemic, the actual death toll was probably higher than reported.
In late September, the death of John Stanley Hardman from influenza was still deemed unusual enough to merit notice in the local paper. Hardman served as a hospital apprentice in the Naval Reserve. After nursing two men suffering from influenza, he contracted the disease himself. Within thirty-six hours, he was dead from influenza. At his bedside was his fiancee; he had intended to be married on October 1st. As influenza spread throughout the state, deaths such as Hardman's became so common that newspapers stopped reporting them.
Emergency hospitals were set up in Pawtucket, Woonsocket, Warwick, and Westerly. In Westerly, city officials turned an abandoned school was turned into a hospital, complete with new wiring and plumbing overnight. Like most other states, Rhode Island found itself facing a severe shortage of nurses. With over two-thirds of the state's registered nurses working for the war effort, state officials were forced to rely on student nurses.
In Providence, as in many other areas, city officials and residents hotly discussed whether to cancel all public gatherings. A local Catholic priest, William I. Simmons, complained that it made no sense to close the churches if the stores, factories, and streetcars were not also closed. Adapting a fatalistic approach to the pandemic, Simmons insisted that medical authorities would be unable to arrest the pandemic. Believing that only prayer could save Providence, Simmons urged his fellow citizens to ''assemble in their places of worship and implore the assistance of God, in supplication and prayer.'' In nearby Massachusetts, a Presbyterian minister angrily responded to Simmon's plea by pointing out that while prayer had its virtues, people could easily do this at home.
In 1918, Charles V. Chapin, one of the era's leading public health reformers, led the state's board of health. Chapin was deeply pessimistic about the situation. Arguing that influenza was already widespread in Rhode Island, he maintained that banning assemblies would have little or no impact on the spread of the disease.The epidemic would have to run its natural course. Chapin, then, issued directives urging the sick to remain at home and providing information on how to care for patients.
Although the pandemic tapered off during the late fall, influenza remained a threat until the summer of 1919.
c1906. Easton's Beach in Newport, Rhode Island. [Credit: The Library of Congress]
In the years immediately following the pandemic, concerns about influenza were understandably heightened. A year after the pandemic, Dr. Richards, the secretary of Rhode Island's State Board of Health, wrote to the Surgeon General about the presence of influenza in his state. Fearing the worst, Richards noted that while the situation "regarding Influenza has not become at all alarming," he was still insisting on daily reports from every city's health officer. This was a radical change from previous years when there had been no attempts to monitor influenza cases. Richards also asked the Public Health Service for access to an experimental influenza vaccine. This request for a vaccine was not unusual; many state health departments begged the PHS for access to a vaccine both during and immediately after the pandemic. There were, however, no effective vaccines at this time.