The earliest recorded cases occurred among Navy personnel in New London during the week of September 11th. The Connecticut State Department of Health made influenza a reportable disease in New London County on September 12, 1918. On September 18th, it became reportable for the entire state. On September 27th, the Public Health Service noted that "influenza is prevalent throughout the eastern and southern parts of the state and it appears to be increasing. About 2,000 cases of the disease had been reported in New London and within its vicinity on September 23." By October 25th, the PHS was estimating that 180,000 cases had occurred. On October 20th, there were 325 reported deaths in Hartford; Waterbury had 294 deaths; New Haven had 209 deaths and Bridgeport had 69 deaths. The actual number of influenza-related deaths was probably much higher.
c1905 Main St. and City Hall in Hartford, Connecticut. During the epidemic many homes and other buildings along Main St. were converted to emergency hospitals. [Credit: The Library of Congress]
The situation in Boston was so severe that Connecticut received many requests for doctors and nurses from Massachusetts. Although he would have liked to assist his neighbors, the Connecticut Commissioner of Health, John T. Black, was concerned that the epidemic would worsen in Connecticut. On October 5th, Black formally urged all Connecticut nurses and physicians to remain in the state. On October 8th, schools and theaters were closed. In Hartford, the Hartford Golf Club became an emergency hospital. In New Britain, a woman volunteered her ten room house on Main Street as an emergency hospital.
A nurse named Beatrice Springer Wilde was working at the Hartford Hospital in 1918 when four Yale students came in. They had become ill and decided to get off the train in Hartford. They had walked to the hospital from the train station. Within twenty-four hours, all four were dead.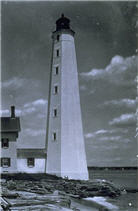 c1920 The New London Harbor Lighthouse. New London was the first city in Connecticut to report cases of influenza to the Public Health Service. [Credit: The University of Connecticut]
On October 9th, The Hartford Courant reported a new type of traffic incident. A local man had blocked the car of a doctor, insisting that the doctor examine and treat his daughter. The physician said that he was overwhelmed and could not do so. When the father refused to move, a crowd gathered. Ultimately, the mayor of New Britain took the desperate father into the New Britain Club and arranged for a physician to see the man's daughter.
In New Canaan, nurse Edith Price said that she felt "like a machine going about until I ran down."
Influenza rates peaked in the state during the fall. The disease gradually declined during the winter and spring although it remained pervasive throughout the state. By the summer, influenza finally began to disappear from the state.