Kerry Discusses Lessons from "Supercommittee" Debt Panel
Wrapping up 2011, Senator Kerry spoke at a live policy briefing in Washington on the lessons learned from the bipartisan deficit-reduction "Supercommittee." You can watch the full discussion here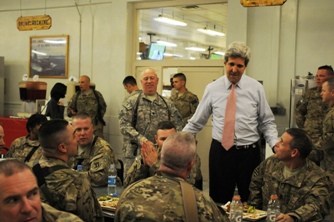 A Message for Our Veterans
As we head into 2012, we're all especially grateful to our veterans and men and women in uniform. You can watch Senator Kerry's veterans message here.
It Gets Better, from the Massachusetts Congressional Delegation
An It Gets Better message from the Massachusetts Congressional Delegation to teens in Massachusetts and across our country.
Legislative Update [ more ]
Last year, ideology stood in the way of an historic opportunity to get America's fiscal house in order – just as ideology brought the country to the brink of three government shut-downs, the edge of default, and a credit downgrade that should've been prevented by common sense. I'm deeply disappointed with the way Congress isn't working – and I'm fighting to change it. It's too easy just to say that Washington is broken or Congress is broken. These issues aren't going away; in fact, they are becoming more urgent. Workers across Massachusetts could at least breathe a sigh of relief when Democrats successfully extended tax cuts for middle class families temporarily before they expired. It was a show-down that never should have come to the brink: you'd think no one would want to see every American's paychecks go down to start the new year. When we return to Washington later this month, we must extend middle class tax cuts through the end of the year.

We must also continue to work together to reduce both our jobs deficit and our budget deficit at the same time. I will be working to push Congress to make the difficult but necessary decisions. We must spend the next year finding the balanced and fair solution our country needs that grows our economy and create jobs.
How Can I Help You?
These are the top areas I've been helping the people of Massachusetts with this month, please select how I can help you from one of these or use the drop down menu for a full list of services that I can help you with.