Byron S. Georgiou
Commissioner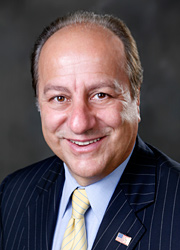 Byron Georgiou has had a long career in the private and public sector in business, law and government service.
He currently oversees Georgiou Enterprises, with wide ranging interests including the manufacture of a broad range of lithium ion iron phosphate all electric powered vehicles; the development of information technology and electronic health records for physicians and other healthcare professionals; the manufacture of custom parts for the aerospace and defense industries; partnerships in several private equity firms; a portfolio of carbon emission reduction projects in Central America that generates carbon credits under the Kyoto protocol; environmental cleanup and resource recovery at coal mining sites; development of nationwide fiber optic networks for broadband transmission; development and management of commercial and residential real estate and golf courses; and the provision of customer services at regional shopping centers throughout America.
Mr. Georgiou has served since 2005 on the advisory board of the Harvard Law School Program on Corporate Governance which hosts the world's leading blog on corporate governance and financial regulation.
Since 2000, Mr. Georgiou has been affiliated Of Counsel to the national law firm of Robbins, Geller, Rudman & Dowd, the world's largest plaintiffs' securities practice, and has spent much of the last decade investigating and civilly prosecuting financial fraud, with leadership roles in the historic litigations on behalf of victimized investors at Enron, WorldCom, Dynegy, AOLTimeWarner, and UnitedHealth.
In 1994, he co-founded and served as President of American Partners Capital Group, which served the needs of institutional investors and investment managers through capital formation programs in a variety of alternative asset categories.
From 1983-1994, he was Managing Partner and co-founder of the law firm of Georgiou, Tosdal, Levine and Smith, a general civil practice, with emphasis on litigation and appearances before executive and legislative governmental bodies, and representation of labor organizations and their members, including contract negotiations and enforcement for many public and private sector labor organizations.
From 1980-1983, Mr. Georgiou served as Legal Affairs Secretary to California Governor Edmund G. Brown Jr., responsible for litigation by and against the Governor, judicial appointments, liaison with the Attorney General, Judiciary and State Bar, legal advice to the Governor and members of his Cabinet, and exercise of the Governor's powers of extradition and clemency.
In 1982 Mr. Georgiou was honored as Public Official of the Year by the California Trial Lawyers Association and served as chair of the Governor's Task Force on Alcohol, Drugs and Traffic Safety, one of the nation's first vehicles for enacting tough drunk driver legislation, sponsored by Mothers Against Drunk Driving (MADD).
Mr. Georgiou served from 1975-1980 in various capacities with the California Agricultural Labor Relations Board, defending the constitutionality of the law up through the United States and California Supreme Courts, and prosecuting unfair labor practice cases enforcing the collective bargaining rights of farm workers, who had been excluded from protection under the National Labor Relations Act.
He received his undergraduate degree with Great Distinction from Stanford University, attending on a full Alfred P. Sloan academic scholarship, and his Juris Doctor degree magna cum laude from Harvard Law School.
Mr. Georgiou and his wife, Dr. Therese Collins Georgiou, live in Las Vegas, Nevada with their daughters, Ariadne Christina (born 10/19/08) and Athena Theodora (born 12/14/10).