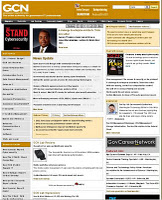 USGS Center for Biological Informatics
Deputy Director Mike Frame is featured in the
Government Computer News
online magazine. In his article, Mike talks about ways of improving collaboration and information-sharing across government departments and agencies. Mike states, "ensuring that information is fully shared across a number of government and public organizations can be onerous. That is one of the responsibilities of the
USGS Center for Biological Informatics
. As the lead geospatial and information technology group at USGS' biological group, the center manages data and information on topics such as species, land change and standards and shares that information with other federal agencies, nonprofits and universities."
This is primary accomplished through the Center's work in several Programmatic areas including the
National Biological Information Infrastructure
(NBII),
GAP Analysis Program
(GAP),
USGS/NPS Vegetation Mapping Program
, and the
Integrated Taxonomic Information System
(ITIS).
Read the
full article
on the
Government Computer News
web site.
(Photo: Screen shot of the GCN web site.
)