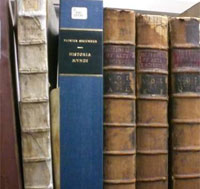 Wednesday, April 6, 2011, 7:00 PM
Title: Treasures of the USGS Library
By Richard Huffine
Since its creation in 1882, the
USGS Library
has grown to become the world's largest library dedicated to earth and natural sciences, holding more than 1.5 million volumes and 800,000 maps.
Richard Huffine
, Director of the
USGS Libraries Program
, will highlight some of the rarest, most valuable, and significant materials held by the
USGS
. These include early maps of America, documents that establish the provenance of the Hope Diamond, and documentation of our exploration of the American West by Hayden, King, Powell and Wheeler.
The Library's initiative to digitize their collection for online access will make these cultural and historic records available worldwide to anyone at anytime. Join us and learn how the
USGS
is using history to inform the future directions of
USGS
research and scholarship.
The lecture,
Treasures of the USGS Library, will be given on Wednesday, April 6, 2011, at 7:00 PM
by Richard Huffine in the Dallas L. Peck Memorial Auditorium at the U.S. Geological Survey in Reston, Virginia. See flyer for details.
(Photo:

Title:

Historia Mundi (1530). This 479 year old volume is stored in a specially-made box that protects it from further damage by exposure to light. P

hotographer:

Richard Huffine, U.S. Geological Survey)
(Note: This article was originally published on the USGS Public Lecture Series web site)