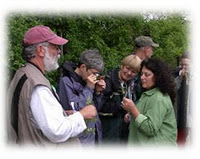 Les described himself as an avid, old-fashioned herbarium (read 'plant collecting') field naturalist who would "rather be doing field work than almost anything else." He had an interest in plant dispersal for many years, and it was while working on rare plants that he increasingly noticed non-native species invading rare species habitats. He started making lists of these non-native species in the early 1990s. Today IPANE is the flagship volunteer regional invasive plant network for early detection, rapid assessment, and rapid response (EDRR). Other regional programs such as the Invasive Plant Atlas of the MidSouth
(IPAMS) and iMAPinvasives
are using IPANE as a model for their own development. IPANE also recently began working with EDDMaps
to create a stronger early detection support program for New England.
Les was a dynamic speaker and had been featured on National Public Radio's Morning Edition
, and interviewed about his work at Harvard's Arnold Arboretum
and the University of Connecticut
. Les was passionate and charismatic about the flora of New England, and he devoted his life to protecting and preserving nature. The USGS Biological Informatics Program, home of the NBII National Program Office and other USGS biological data management activities, has benefited greatly from its long-term partnership with Dr. Mehrhoff and IPANE. H

is passion for his work always served to energize and re-invigorate us no matter what the circumstances. His thirst for knowledge was contagious; we learned something new every time we worked together AND he made it fun and memorable. We are indeed very lucky to have had the opportunity to work with and learn from a person who was "larger than life" in both his boundless enthusiasm and his encyclopedic knowledge. We will sorely miss his hearty laugh and wonderful sense of humor, his love of life, and his spirit of fun and adventure.
We will echo Les's enthusiasm, expertise, and excellence in our continued support for the IPANE, the Invasive Plant Atlas of the MidSouth
(IPAMS) and for other EDRR-related activities. Les will be remembered for all of his hard work and dedication, and his contributions to IPANE and to the world of botanical collections and invasive exotic plant management. He will be truly missed as a dear friend and greatly respected colleague.
Les's family has requested those wishing to honor him, "In memory of Les, please perform an act of kindness for the preservation of our environment."
To mail a sympathy card, please contact Annie Simpson or Elizabeth Sellers directly for the mailing address of the Mehrhoff family.
To learn more about Les's work, here are two additional tributes from other colleagues:
(Photo: Top left: Volunteers at advanced training with Les Mehrhoff (far left), courtesy of the IPANE Web site; lower right: Les, on left, having fun before vine. © Les Mehrhoff, 2007
)