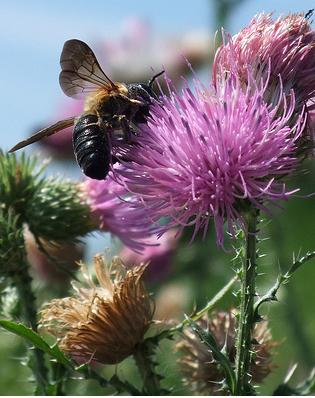 U.S. Geological Survey
(USGS) Scientists Steve Hilburger (Program Analyst,
USGS Wildlife Program
),
Sam Droege
(Wildlife Biologist,
USGS Patuxent Wildlife Research Center
and Coordinator of the USGS Native Bee Inventory and Monitoring Laboratory), and Elizabeth Sellers (Manager,
Pollinators Project
of the
USGS National Biological Information Infrastructure
) will showcase examples of USGS pollinator research and biological informatics tools at the Inter-departmental
National Pollinator Week
Exhibit hosted by the
U.S. Department of Agriculture
(USDA) beside the National Mall (adjacent to the
USDA People's Garden
) in Washington D.C. on June 21, 2010. This event builds on the cooperative energy initiated at an inter-departmental pollinator collaboration meeting hosted by USDA in March, and provides an opportunity for more pollinator-related information exchange and discussion among Federal agencies and with the public.
National Pollinator Week
is from June 21-27, 2010.
(Photo: Giant resin bee (Megachile sculpturalis) on thistle. Franklin Park, Purcellville, VA. © Elizabeth Sellers 2009).