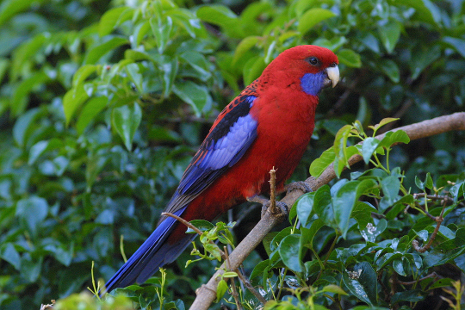 NBII Bird Conservation Node
Manager Elizabeth Martín and Grant Ballard of
Point Reyes Bird Observatory (PRBO) Conservation Science
compiled a document on best practices and standards for data management that is now available online. The document, titled "
Data Management Best Practices and Standards for Biodiversity Data Applicable to Bird Monitoring Data
," provides general information from various sources and serves as a reference guide for the management of bird monitoring data. It was developed as part of the activities of the
Database Management Team
of the
U.S. North American Bird Conservation Initiative
(NABCI)
Monitoring Subcommittee
, and was endorsed by the
U.S. NABCI Committee
at their January 2010 meeting. To access the document, please visit the
NABCI Web site
.
(Photo: Crimson rosella (Platycercus elegans) perched in a tree. © 2009 Elizabeth A. Sellers, from the NBII LIFE gallery).