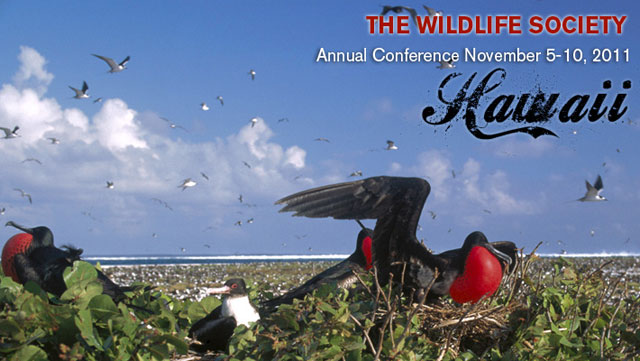 Five Reasons You Should Attend The Wildlife Society Annual Conference:

Hear from Industry Leaders: Experts from federal, state, and provincial agencies as well as
leaders in academia and consulting will discuss new and evolving trends and innovations in wildlife management and conservation.


Learn about the Latest Research: Wildlife professionals will present original research and techniques during symposia, contributed papers, posters, and workshops.


Take Advantage of Numerous Networking Opportunities: Connect with colleagues at the largest gathering of wildlife professionals in North America.


Build Professional Relationships: Form new connections and reconnect with familiar faces.


Get Inspired: Let new ideas and research inform and motivate you.
---
JUST ANNOUNCED
Since the majority of the room block at the Hilton Waikoloa Village has been reserved, TWS has obtained a special conference rate for hotel rooms at the Waikoloa Beach Marriott. The Marriott is a 1/2 mile away from the Hilton. It is a very plesant walk to the Hilton from the Marriott. The room rate at the Marriott is only $169/night and can be reserved here. You can also call 1-800-266-9432 and request The Wildlife Society Annual Conference rate.
---

Conference Attire
Dress for all conference sessions and special events is "resort casual." Since we are in a tropical region, shorts and short sleeve shirts are fine. Average temperatures will range from 70-85 degrees Fahrenheit. We do recommend that you dress in layers. While it may be humid outside, the meeting rooms will be cooler. Rain is also common, although typically in short bursts. In addition, the exhibit area is open air and may be humid. If you are attending field trips, consider bringing sun block, hats, sunglasses, binoculars, water bottles, and other accessories.
Last Updated on Wednesday, 19 October 2011 08:59
To assist you with your conference scheduling, we suggest you download the Program Planner App. If you have a smartphone (e.g., iPhone, Android, or Blackberry) you can download the app by using the QR code below or going to this URL: http://download.abstractcentral.com/wildlife2011/index.htm. For those who have an iPhone or iPad, you can download the app in the Apple App store; search for myitinerary.
System Recommendations:
Apple App store app: search for myitinerary.
iPhone 3GS, iPod touch (3rd generation+), and iPad with iOS 4.0 or later.
Web App: iPhone 3GS, iPod touch (3rd generation+), and iPad with iOS 4.0 or later. Most mobile devices using Android 2.2 or later with the default browser. Blackberry Torch or later device using Blackberry OS 7.0 with the default browser.
Last Updated on Wednesday, 19 October 2011 08:56
2011 Leopold Award Winner Reception
Join TWS Council on Monday, November 7 from 5:00-6:30 pm when they host a reception in honour of the 2011 Aldo Leopold Award Winner in Kona 2. Who is the winner? You'll need to attend TWS Awards Ceremony on Sunday afternoon following the Plenary to find out.
---
WOW! Women of Wildlife Mixer
This year a new event will be added to the national meeting. Designed to encourage networking and career-development among women at all career levels, the event is called Women of Wildlife or WOW. Section Representative Carol Chambers, President-Elect Wini Kessler, three Working Groups (Ethnic and Gender Diversity, Native Peoples' Wildlife Management, Student Professional Development) and a core group of other professional women conceived this idea and planned the kick-off reception. All those (students, professionals, retirees) who support the advancement of women in wildlife careers are invited to attend the mixer on Monday, November 7, from 5 to 6:30 pm.
Last Updated on Wednesday, 19 October 2011 09:00
This year's conference has a student-friendly schedule, with all student-related events held from Saturday to Tuesday, limiting your time away from school! If you're wondering what other students who attended the Annual Conference are saying, read this story or just play our video.
There will be a plethora of conference activities aimed at students' professional development, including events to meet professionals, learn how to find wildlife jobs, and socialize with other students.
Last Updated on Wednesday, 19 October 2011 09:00
Read more...