Pest Tracker
National Agricultural Pest Information System
PEST WATCH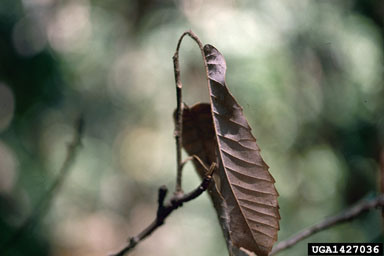 This pest has been found in the United States and presents a significant threat to food or forest plants. Click the photo to learn more about this exotic pest.
2011 CAPS SURVEYS
The Cooperative Agricultural Pest Survey (CAPS) program is sponsored by the Plant Protection and Quarantine division of USDA Animal and Plant Inspection Services. Surveys to detect and prevent the spread of this pest are being supported in the higlighted states. Click the map to view survey results.
HELP STOP EXOTIC PESTS
Stopping these
invaders is a
community effort.


SUCCESS STORIES
Aptly named
Mile-a-Minute Weed
can grow 6 inches a day. Eastern states are fighting back with Rhinocominus latipes, a mile-a-minute weed eating weevil. All life stages of the weevil feed on the plant with the larvae doing the most damage as it feeds through the stem of the plant. The weevil can survive New England winters, encouraging researchers that it can slow this speedy weed.