Water Resources of New Mexico

Real-Time Streamflow Sites
Welcome to the U.S. Geological Survey (USGS) Web page for the water resources of New Mexico; this is your direct link to all kinds of water-resource information. Here you'll find information on New Mexico's rivers and streams. You'll also find information about groundwater, water quality, and many other topics. The USGS operates the most extensive satellite network of stream-gaging stations in the state, many of which form the backbone of flood-warning systems.
The USGS provides current ("real-time") stream stage and streamflow, water-quality, and groundwater levels for over 130 sites in New Mexico.
New Mexico Data Highlights
2010 Water Data Report Now Available
The 2010 USGS Water Data Report is now available to provide a snapshot of water conditions for a given year. The report includes text and map interfaces that can be used to identify and access an area of interest, locate sites where water data were collected for various Water Years
Instantaneous Data Archive (IDA)
The Instantaneous Data Archive makes available as much intra-day streamflow data and historical instantaneous data continuous (measurements from every 5 to every 60 minutes), as possible, often several years' worth of data.
Featured Project
StreamStats interface
New Mexico StreamStats - A Web-based GIS (Geographic Information System) that provides users with access to an assortment of analytical tools that are useful for water-resources planning and management, and for engineering design applications, such as the design of bridges. StreamStats allows users to easily obtain streamflow statistics, drainage-basin characteristics, and other information for user-selected sites on streams. StreamStats is implemented for a pilot area in northwestern New Mexico. The implemented area is indicated by the aqua-colored boundary on the map in the user interface. The development is ongoing and expected to be completed for all New Mexico watersheds.
Highlighted Publications
The New Mexico Water Science Center produces publications about water resources.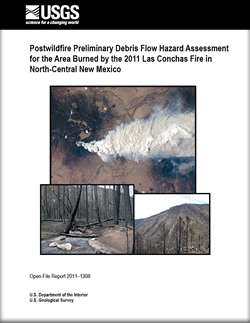 Open-file Report 2011–1308
Postwildfire Preliminary Debris Flow Hazard Assessment for the Area Burned by the 2011 Las Conchas Fire in North-Central New Mexico
Open-file Report 2011–1257
Postwildfire Debris Flow Hazard Assessment for the Area Burned by the 2011 Track Fire in Northeastern New Mexico and Southeastern Colorado
Data Series 2011–629
Selected Investigations and Statistical Summary of Surface-Water Quality in the Rio Grande and the Rio Chama, North-Central New Mexico, During Water Years 1985–2007
Data Series 2011-623
Water-level data for the Albuquerque Basin and adjacent areas, central New Mexico, period of record through September 30, 2010
Scientific Investigations Map 2011-3162
Estimated 2008 Groundwater Potentiometric Surface and Predevelopment to 2008 Water-Level Change in the Santa Fe Group Aquifer System in the Albuquerque Area, Central New Mexico
Fact Sheet 2011-3053
Assessing Effects of Energy Development in Colorado and New Mexico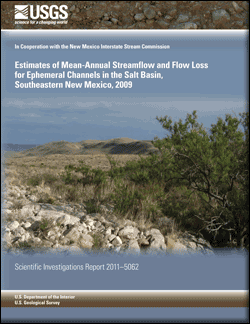 Scientific Investigations Report 2011-5062
Estimates of Mean-Annual Streamflow and Flow Loss for Ephemeral Channels in the Salt Basin, Southeastern New Mexico, 2009
Scientific Investigations Report 11-5020
Effects of natural and human factors on groundwater quality of basin-fill aquifers in the southwestern United States-conceptual models for selected contaminants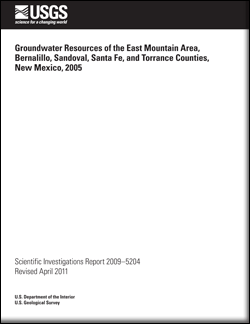 Scientific Investigations Report 2009–5204
Groundwater Resources of the East Mountain Area, Bernalillo, Sandoval, Santa Fe, and Torrance Counties, New Mexico, 2005
Search our publications
Data via GoogleMaps
New Maps Deliver Current Streamflow Conditions
We recently added a
Google-Map based Web page
to deliver map-based current surface-water-resources conditions in New Mexico.
(References to non-U.S. Department of the Interior (DOI) products do not constitute an endorsement by the DOI. By viewing the Google Maps API on this web site the user agrees to these TERMS of Service set forth by Google.)
The maps utilize zoom and pan to allow you to focus in on the water-monitoring sites that interest you. The maps show current streamflow as compared to historical records. By hovering your mouse over a site, a popup box shows the most recent stage and streamflow.