Water Resources of Mississippi
State and National Streamflow Conditions
Click on the map below to retrieve local or
national real-time data and station information.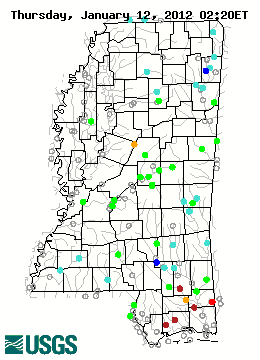 Welcome to the U.S. Geological Survey (USGS) Web page for the water resources of Mississippi. The USGS provides maps, reports and information to help others meet their needs to manage, develop, and protect America's water, energy, mineral, and land resources. We help find natural resources needed to build tomorrow, and supply scientific understanding needed to help minimize or mitigate the effects of natural hazards and environmental damage caused by human activities. The results of our efforts touch the daily lives of almost every American.
---
Steele Bayou Monitoring Update

Monitoring is critical for measuring the success of the Steele Bayou watershed restoration. A briefing sheet, released as of October 24, 2011, is available here.
USGS Mississippi Data Highlights
2010 Mississippi Water Data Report Now Available
The 2010 USGS Water Data Report is now available online and improves on the previous online reports with a new interactive feature designed to make site data retrieval easier and more convenient.
The new report includes a national map interface that can be used to identify an area of interest, locate sites where water data were collected for Water Year 2010, and access most of that data. The annual Water Data Report provides a snapshot of water conditions for a given year. Access the Water Data Report using a text (
) or map (
) interface.
National Water Information System: Mapper
The new NWIS Mapper provides an interactive map interface to all USGS water data (historical and current). (Note: To access data, zoom in on the map to level 11 or greater to make the individual sites clickable.)
Instantaneous Data Archive (IDA)
The Instantaneous Data Archive makes available as much intra-day streamflow data and historical instantaneous data continuous (measurements from every 5 to every 60 minutes), as possible, often several years' worth of data.
Informative Tools & Links
USGS StreaMail

USGS StreaMail is a system for accessing real-time river stage and streamflow from hand-held wireless devices, such as cell phones and Blackberries. All you have to do is send an email or text message to "streamail@usgs.gov" and use a USGS station number in the "Subject" line. In a few minutes you'll get back an email/text message with the most recent stage and streamflow.

For more information visit StreaMail Background Information
USGS WaterAlert

Now you can receive instant, customized updates about water conditions by subscribing to WaterAlert, a new service from the U.S. Geological Survey. WaterAlert allows users to receive updates about river flows, groundwater levels, water temperatures, rainfall, and water quality at more than 9,500 sites where USGS collects real-time water information. The Mississippi Water Science Center collects real-time water information at more than 130 sites throughout Mississippi and makes that data available to the public through WaterAlert.

For more information visit WaterAlert
USGS News & Social Media
---
USGS Newsroom



The USGS has several social media presences. Find others that may interest you at:
http://www.usgs.gov/socialmedia/
Highlighted Publications
Journal Article -- The fate and transport of nitrate in shallow groundwater in northwestern Mississippi, USA. By Heather L. Welch, Christopher T. Green, and Richard H. Coupe


DS 493 -- Prepared in cooperation with the U.S. Environmental Protection Agency: Water-Quality Data for Selected Streams in the Mississippi Alluvial Plain Ecoregion, Northwestern Mississippi, September-October 2007. By Matthew B. Hicks and Shane J. Stocks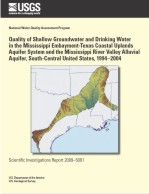 SIR-2009-5091 -- National Water Quality Assessment Program: Quality of Shallow Groundwater and Drinking Water in the Mississippi Embayment-Texas Coastal Uplands Aquifer System and the Mississippi River Valley Alluvial Aquifer, South-Central United States, 1994-2004. By Heather L. Welch, James A. Kingsbury, Roland W. Tollett, and Ronald C. Seanor –2009
OFR-2008-1198 -- Prepared in cooperation with the Mississippi Department of Environmental Quality, U.S. Department of Agriculture-Natural Resources Conservation Service, Mississippi Department of Transportation, U.S. Department of Agriculture-U.S. Forest Service, and Mississippi Automated Resource Information System: Development of a Watershed Boundary Dataset for Mississippi. By K. Van Wilson, Jr., Michael G. Clair II, D. Phil Turnipseed, and Richard A. Rebich
SIM 3020 -- Prepared in cooperation with the Mississippi Department of Environmental Quality, U.S. Department of Agriculture-Natural Resources Conservation Service, Mississippi Department of Transportation, U.S. Department of Agriculture-U.S. Forest Service, and Mississippi Automated Resource Information System: Watershed Boundary Dataset for Mississippi. By By K. Van Wilson, Jr., Michael G. Clair II, D. Phil Turnipseed, and Richard A. Rebich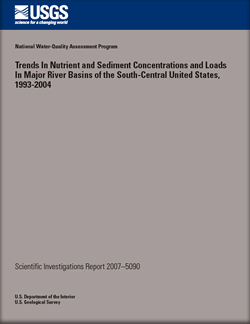 SIR-2007-5090 -- National Water Quality Assessment Program: Trends In Nutrient and Sediment Concentrations and Loads In Major River Basins of the South-Central United States, 1993-2004. By Richard A. Rebich and Dennis K. Demcheck
Search our publications