Water Resources of Montana
Welcome to the U.S. Geological Survey (USGS) Web site for the water resources of Montana. Here you'll find information on Montana lakes, rivers, and streams. The USGS operates the most extensive satellite network of stream-gaging stations in the State, many of which form the backbone of flood-warning systems.
The USGS provides current ("real-time") stream stage and streamflow, water-quality, and groundwater levels for over 200 sites in Montana.
USGS Montana Highlights
USGS WaterAlert Service
The U.S. Geological Survey WaterAlert service sends e-mail or text messages when certain parameters measured by a USGS data-collection station exceed user-definable thresholds. The development and maintenance of the WaterAlert system is supported through the USGS Cooperative Water Program, the USGS National Streamflow Information Program, and by USGS data-collection partners, including numerous federal, state, and local agencies.
Determination of pier-scour potential is an important consideration in the hydraulic analysis and design of highway bridges that cross streams, rivers, and other waterways in the United States. A primary goal of ongoing research in the field of bridge scour is to improve scour-prediction equations so that pier-scour depth is neither underpredicted nor excessively overpredicted. The Montana Department of Transportation was interested in pier-scour prediction in coarse-bed streams because coarse-bed streams are common in Montana. Consequently, the U.S. Geological Survey and the Montana Department of Transportation began a cooperative study to investigate pier scour in coarse-bed streams in Montana. This report describes results of a study of pier scour in coarse-bed streams at 59 bridge sites in the mountain and foothill regions of Montana. Data collected and analyzed for this study include 103 coarse-bed pier-scour measurements. The report also describes how coarse-bed pier-scour measurements were collected, shows the extent that the coarse portion of the national pier-scour database was expanded, discusses how these new data were used to evaluate the relative accuracy of various equations for predicting scour in coarse-bed streams, and demonstrates how differences in size and gradation between surface bed material and bed material underlying the surface layer (shallow-subsurface bed material) might relate to pier scour.

Benton Lake National Wildlife Refuge is an important area for waterfowl production and migratory stopover in west-central Montana. Eight wetland units covering about 5,600 acres are the essential features of the refuge. Water availability for the wetland units can be uncertain owing to the large natural variations in precipitation and runoff and the high cost of pumping supplemental water. The U.S. Geological Survey, in cooperation with the U.S. Fish and Wildlife Service, has developed a digital model for planning water management. The model can simulate strategies for water transfers among the eight wetland units and account for variability in runoff and pumped water.

Hungry Horse Reservoir is at the lower end of the South Fork Flathead River and stores water behind Hungry Horse Dam. Hungry Horse Dam, which was completed in 1952, is operated by the Bureau of Reclamation for power generation, flood control, recreation, and flow augmentation for endangered species. Releases from Hungry Horse Dam are managed to meet minimum flow requirements below Hungry Horse Dam and on the main stem Flathead River at Columbia Falls for bull trout and to provide spring and summer flow augmentation for salmon and steelhead in the Columbia River. These demands on the streamflow and reservoir storage together with potential future demands for water stored in Hungry Horse Reservoir pose many challenges to water resources planners and managers. In order to assist with water-resources planning efforts, in 2006 the U.S. Geological Survey, in cooperation with the Bureau of Reclamation, began a study to develop a precipitation-runoff model for the South Fork Flathead River Basin upstream from Hungry Horse Reservoir to simulate daily, monthly, and annual streamflow for water-resources planning. This report documents the development of a precipitation-runoff model for the South Fork Flathead River Basin in northwestern Montana. This publication is online only.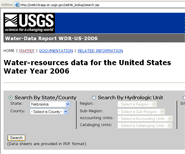 Beginning with water year 2006, the annual water data product took on a new format different from the previous report series. The basic product is a Site Data Sheet that serves to publish all data collected during the water year at any given site in the United States. The 2006, 2007 and 2008 USGS Water Data Reports are available online and improve on the previous online reports with a new interactive feature designed to make site data retrieval easier and more convenient. Access the Water Data Report here (

) or use the map (

) interface.
Monthly Conditions Report
STREAMFLOWS AND RESERVOIR CONTENTS CONTINUED TO BE BELOW NORMAL, NORMAL, AND ABOVE NORMAL FOR THE MONTH OF NOVEMBER IN MONTANA.
Monthly mean streamflows were below normal at two of eight long-term U.S. Geological Survey gaging stations, normal at four gaging stations, and above normal at two gaging stations for the month of November.
Monthly mean streamflows were below normal at Yaak River near Troy and Middle Fork Flathead River near West Glacier.
Monthly mean streamflows were normal at:
Blackfoot River near Bonner
Clark Fork at St. Regis
Marias River near Shelby
Yellowstone River at Billings
Monthly mean streamflows were above normal at Rock Creek below Horse Creek, near international boundary and Yellowstone River at Corwin Springs.
Contents were normal at all six major hydroelectric reservoirs in Montana: Canyon Ferry Lake, Fort Peck Lake, Bighorn Lake, Lake Koocanusa, Hungry Horse Reservoir and Flathead Lake.
Contents were below normal at one of four major irrigation reservoirs in Montana: Gibson Reservoir. Contents were above normal at three major irrigation reservoirs: Lima Reservoir, Clark Canyon Reservoir, and Fresno Reservoir.
November 2011 streamflow and reservoir contents data and long-term-average values are summarized for purposes of comparison. Data in this news release are preliminary. Final data will be provided in the annual report (WDR-US-2012), Water-resources data forthe United States when it becomes available in April 2013.
Supporting data are available online
Featured Project
Clark Fork Water-Quality Monitoring
Scenic view of the Clark Fork near Drummond.
In 1993, a long-term monitoring program was implemented in cooperation with the USEPA at an expanded network of sites in the upper Clark Fork basin. In 2006, supplemental sampling was initiated in cooperation with the USEPA at sites in the lower Clark Fork basin from near Milltown Reservoir to the Flathead River to obtain additional water-quality information related to the removal of Milltown Dam.
Find out more
Of Current Interest
USGS Samples for Radioactive Constituents in Groundwater of Southwestern Montana – Project Update and Release of Data - May 3, 2011
The U.S. Geological Survey (USGS), in cooperation with Jefferson County, recently sampled groundwater in southwestern Montana for uranium and other radioactive constituents. Scientists with the USGS Montana Water Science Center collected 165 groundwater samples from 128 wells in Broadwater, Deer Lodge, Jefferson, Lewis and Clark, Madison, Powell, and Silver Bow Counties. Most of the wells included in the study provide water for human consumption. The objectives of the study were to evaluate the occurrence and concentration of naturally occurring radioactive constituents and the geologic settings and conditions in which elevated concentrations occur. The USGS released preliminary findings to Jefferson County officials on May 3, 2011. The USGS will publish a report describing methods and results later in 2012. Preliminary data.

Find out more