Water Resources of Nebraska
Welcome to the USGS Web page for the Nebraska Water Science Center (NEWSC). Here you'll find information on Nebraska's rivers and streams, groundwater, water quality, and many other topics. The USGS operates the most extensive satellite network of stream-gaging stations in the state, many of which form the backbone of flood-warning systems.
Featured Water News
USGS donates computers for education and to those in need
The U.S. Geological Survey (USGS) Nebraska Water Science Center has donated several computers and other computer hardware, such as monitors, laptops, keyboards, to the Lincoln Public Schools Information Technology Focus Program. Students in the program will collect the hardware and re-furbish and update them. The program will then partner with local agencies that work with low-income families to distribute the computers to families in need.
"The USGS uses computers with the power and speed to accomplish our needs," said Robert Swanson, Director of the USGS Nebraska Water Science Center. "It's gratifying to know that even though these machines have outlived their usefulness to the USGS that they will continue to provide service without becoming part of a land fill and that they will provide educational opportunities for our next generation of information technology professionals."
Nebraskast: A NEWSC Podcast
Episode 10:
USGS Activities During Missouri River Flooding 2011
USGS Nebraska Water Science Center Associate Director Richard "Rick" Wilson describes the reasons for and extent of the flooding on the Missouri River in 2011, the risks associated with the flooding, and the work the USGS is doing on the river to characterize the amount of scour and other potential damage resulting from the flood waters. (40 Mb)

Download podcast (right click - save as)
A transcript is available.
Current Conditions in Nebraska
Real-Time Streamflow Sites
The USGS provides current ("real-time") stream stage and streamflow, water-quality, and groundwater levels for over 130 sites in Nebraska.
USGS Nebraska Water News and Notices

Sign up to receive USGS WaterAlert updates via e-mail or text message.

Sign up to receive a daily water conditions e-mail for selected streams and wells.

Sign up to receive Nebraska water news and notices by e-mail.
Highlighted Publications
The Nebraska Water Science Center produces publications about water resources.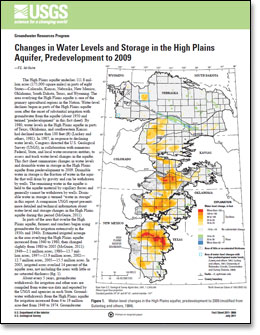 FS 2011-3069
Changes in Water Levels and Storage in the High Plains Aquifer, Predevelopment to 2009
SIR 2011-5089
Water-Level Changes in the High Plains Aquifer, Predevelopment to 2009, 2007-08, and 2008-09, and Change in Water in Storage, Predevelopment to 2009

Data Series 581
Time-Domain Electromagnetic Soundings Collected in Dawson County, Nebraska, 2007–09
OFR 2011-1049
Characteristics of Suspended and Streambed Sediment within Constructed Chutes and the Main Channel at Upper Hamburg and Glovers Point Bends, Missouri River, Nebraska, 2008
Data Series 572
Sediment Samples and Channel-Geometry Data, Lower Platte River Watershed, Nebraska, 2010
OFR 2010-1288
Helicopter Electromagnetic and Magnetic Geophysical Survey Data, Swedeburg and Sprague Study Areas, Eastern Nebraska, May 2009
SIR 2009-5175
Water Quality of Combined Sewer Overflows, Stormwater, and Streams, Omaha, Nebraska, 2006–07

SIR 2010-5149
Simulation of Groundwater Flow and Effects of Groundwater Irrigation on Stream Base Flow in the Elkhorn and Loup River Basins, Nebraska, 1895–2055—Phase Two
SIR 2010-5141
Hydrogeomorphic Segments and Hydraulic Microhabitats of the Niobrara River, Nebraska—With Special Emphasis on the Niobrara National Scenic River