Biological Systems

Aquatic biodiversity in Alabama ranks very high nationally, due in part to the state's numerous river systems and diverse geology. Studying this diversity offers Survey biologists ways to assess important factors that affect the quality of our water resources. Biological monitoring of the state's fish fauna is used to study the water quality in the state. Moreover, Survey biologists accrue basic information through intensive field work. This information is used in resource management and species distribution studies and is available for public use.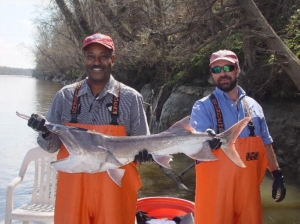 Recent investigations by Survey biologists document the habitats and distributions of fishes in the Mobile-Tensaw River Delta and the Tennessee, Cahaba, lower Tombigbee, and Black Warrior river systems; in the Gilbertown, Pollard, and Citronelle oil field areas; and in streams draining the Warrior coalfield. Also, recent biological/water-quality monitoring studies assess the impacts of pollution, timber management practices, coalbed methane production, and coal mining on aquatic ecosystems in the Cahaba and Paint Rock Rivers and the Locust, Mulberry, and Sipsey Forks of the Black Warrior River. Investigating Alabama's rich mussel fauna has been another research effort of biologists in recent years.
The Biological Resources group is actively involved in documenting the movements of large riverine fishes in Alabama, such as southeastern blue suckers, smallmouth buffalo, paddlefish, and Gulf sturgeon. These studies have led to a better understanding of how fishes utilize rivers through the year and will assist state and federal conservation agencies and river management agencies to better fulfill their water resources mandates and obligations. Survey biologists also collect and analyze data on stream fish communities as part of the Survey's watershed assessment projects in Alabama. These aquatic biomonitoring projects are important tools for evaluating water quality in Alabama's rivers and streams. The Survey maintains small reference collections of fishes, mussels, and aquatic insects that are available for scientific use or public tour.
Fishes of Alabama and the Mobile Basin, an 820-page book mapping the distribution of more than 300 species of freshwater and selected marine fishes, was completed in 1996 by biologists at the Geological Survey of Alabama in cooperation with the Alabama Department of Conservation and Natural Resources. The book is designed to appeal to a variety of readers of from the fisherman to the scientist. Special features of the book include detailed, full-color photographs of more than 300 species of freshwater and marine fishes; color physiographic maps showing dot distributions for 300 fish species in those areas; and a species checklist.