Water Resources of Minnesota
Welcome to the USGS Minnesota Water Science Center. These pages are your source for water-resource information collected and interpreted by the U.S. Geological Survey in Minnesota.

Minnesota Water Science Center activities include:
Presentation of real-time streamflow, water-quality, ground-water levels data.
Operation and oversight of an extensive network of water-resource monitoring sites.
Archive of water-resource information collected for more than 100 years.
Data collection and investigative studies related to issues of concern to water-management entities and citizens.
Publishing data and topical reports.
---
Quick Link to Real-Time Data:
View site list:
SW
|
GW
|
WQ
MinnesotaMonitoring Networks
The USGS Minnesota Water Science Center continuously monitors surface water, ground water, and water quality parameters across the state. Monitoring sites are operated in cooperation with various local, State, or Federal agencies.
Minnesota provides real-time water-stage, streamflow and precipitation data at 149 sites across the state.

33 ground-water wells are monitored by the USGS in Minnesota. These wells record data on hourly intervals.

Water-quality conditions are continuously monitored by the USGS at 11 sites across the state of Minnesota

View the Google Map developed by the NWIS team that displays all Minnesota Surface-Water sites, Groundwater sites, and more.
Featured Publication
Effects of Agricultural Land Retirement in the Minnesota River Basin
by Victoria G. Christensen and Kathy E. Lee.
Full Publication | AWRA Article


West Fork Beaver Creek.
Three watersheds in the Minnesota River basin were selected to study effects of agricultural land retirement on stream quality. Site selections were based on similarities in hydrology, land use, soil type, and other characteristics; and differences in land retirement percentages. Water samples were collected from 2005-2008 and analyzed for field measurements, nutrients, and sediment. Streamflow and continuous water-quality data also were collected. Biological sampling was conducted in August 2006 and 2007.
The South Branch Rush River (representing little to no land retirement) had substantially higher nitrogen concentrations than Chetomba Creek and West Fork Beaver Creek, watersheds with more riparian land retirement. Total phosphorus was highest in West Fork Beaver Creek and lower in Chetomba Creek and South Branch Rush River. A second monitoring site was established in Chetomba basin, downstream from substantial riparian land retirement. Nitrite plus nitrate, total nitrogen, and total phosphorus were lower for the downstream monitoring site, which may indicate that water-quality improved due to land retirement.
Fish data indicate better resource quality for West Fork Beaver Creek than other streams likely due to several factors including habitat quality, food resources, and dissolved oxygen characteristics. Index of biotic integrity scores increased as local land-retirement percentages (50-and 100-ft buffers) increased.
Data via GoogleMaps
New Maps Deliver Current Streamflow Conditions
We added a Google-Map based Web page to deliver map-based current surface-water resources conditions in Minnesota.
The maps utilize zoom and pan to allow you to focus in on the water-monitoring sites that interest you. The maps show current streamflow as compared to historical records. By hovering your mouse over a site, a popup box shows the most recent stage and streamflow.
Current Issues
New Publication Available: Trends in Suspended-Sediment Loads and Concentrations in the Mississippi River Basin, 1950-2009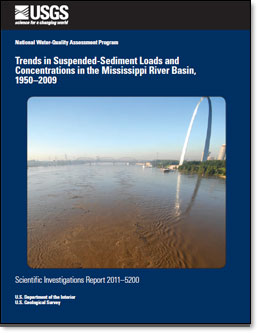 Trends in loads and concentrations of suspended sediment and suspended sand generally were downward for stations within the Mississippi River Basin during the 60-, 34-, and 12-year periods analyzed. Sediment transport in the lower Mississippi River has historically been, and continues to be, most closely correlative to sediment contributions from the Missouri River, which generally carried the largest annual suspended-sediment load of the major Mississippi River subbasins. The closure of Fort Randall Dam in the upper Missouri River in 1952 was the single largest event in the recorded historical decline of suspended-sediment loads in the Mississippi River Basin. Impoundments on tributaries and sediment reductions as a result of implementation of agricultural conservation practices throughout the basin likely account for much of the remaining Mississippi River sediment transport decline. Scour of the main-stem channel downstream from the upper Missouri River impoundments is likely the largest source of suspended sand in the lower Missouri River. The Ohio River was second to the Missouri River in terms of sediment contributions, followed by the upper Mississippi and Arkansas Rivers. Declines in sediment loads and concentrations continued through the most recent analysis period (1998-2009) at available Mississippi River Basin stations. Analyses of flow-adjusted concentrations of suspended sediment indicate the recent downward temporal changes generally can be explained by corresponding decreases in streamflows.
Full Report
---
Student Positions Open in the Minnesota Water Science Center
The U. S. Geological Survey, Minnesota Water Science Center, has openings for qualified student employees in the physical, earth and biological sciences. This is an excellent opportunity to gain experience and to work with USGS scientists. Candidates must be enrolled in a degree-seeking curriculum. Ideal candidates should be available to work part time during the school year and full time in the summer. If interested, please send a resume to Donald Hansen.
Employment by the United States Government is limited to citizens of the United States.
Contact: Jim Stark or Don Hansen
Full Memo
---
Fall 2011 Newsletter
The Minnesota Water Science Center Fall 2011 Newsletter announces upcoming National Research Program Lectures for the MNWSC, spotlights Dave Lorenz' contribution to the USGS, summarizes newly published reports, and highlights some upcoming new research.
---
New Report Released - SIR 2011-5096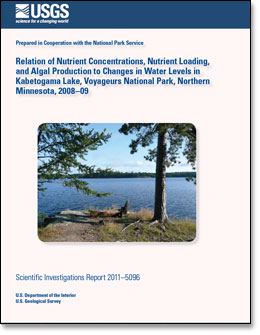 We are pleased to announce a report that documents water- and sediment-quality data collected during 2008-09 to assess internal and external nutrient loading to Kabetogama Lake in Voyageurs National Park. Data collection was focused in Kabetogama Lake and its inflows, the area of greatest concern for eutrophication among the lakes of Voyageurs National Park. Nutrient and algal data were used to determine trophic status and were evaluated in relation to changes in Kabetogama Lake water levels following changes to dam operation starting in 2000. Stratification, combined with larger bottom-water nutrient concentrations, bottom sediment phosphorus concentrations, and estimated phosphorus release rates from sediment cores indicate that Lost Bay may be one of several areas that may be contributing substantially to internal loading. Comparisons of the results of this study to previous studies indicate that chlorophyll-a concentrations and trophic state indices have improved since 2000, when the rules governing dam operation changed.
Full Report
---
New USGS Study Finds Increasing Nitrate in Upper Mississippi River
At the Mississippi River at Clinton, Iowa, which receives drainage largely from Minnesota, annual flow-normalized nitrate concentrations increased 76% from 1980-2008.
Full Results | Star Tribune News Story
---
USGS WaterAlert Service Now Live
Now you can receive instant, customized updates about water conditions by subscribing to WaterAlert, a new service from the U.S. Geological Survey. Whether you are watching for floods, interested in recreational activities or concerned about the quality of water in your well, WaterAlert allows you to receive daily or hourly updates about current conditions in rivers, lakes and groundwater when they match conditions of concern to you.
Learn more on the Press Release page.