Water Resources of Alabama
Welcome to the new website for the USGS Alabama Water Science Center!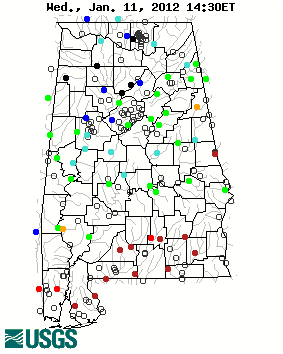 Welcome to the U.S. Geological Survey (USGS) Web page for the water resources of Alabama; this is your direct link to all kinds of water-resource information. Here you'll find information on Alabama's rivers and streams. You'll also find information about ground water, water quality, and many other topics. The USGS operates the most extensive satellite network of stream-gaging stations in the state, many of which form the backbone of flood-warning systems.
The USGS provides current ("real-time") stream stage and streamflow, water-quality, and ground-water levels for over 200 sites in Alabama.
USGS Alabama Highlights
Gages to be Discontinued Due to Proposed Funding Cuts
Data collection at these sites are proposed to be discontinued due to pending buget reductions.
Featured Project
Historical Preservation of Toomer's Oaks in Auburn, AL
The Alabama Water Science Center and Dr. Luke Marzen, Professor of Geography at Auburn University utilized a tripod-mounted laser scanner to capture every dimension of the trees. The tripod-mounted laser scanner also known as terrestrial light detection and ranging (T-LiDAR) quickly scans and outputs XYZ geospatial data to produce highly accurate 3 dimensional (3D) point cloud of the surveyed scene.
Click here to find out more about this ALWSC project.
Alabama Water Science Center Webcam
USGS Tallapoosa River at Wadley, AL

The Alabama Water Science Center has one live webcam, that will allow you to view real-time images of the Tallapoosa River at Wadley, AL
Highlighted Publications
The Alabama Water Science Center Publications about Water Resources
Open-File Report 2011-1102
Pesticide Occurence in Groundwater in Areas of High-Density Row Crop Production in Alabama, 2009, by Richard S. Moreland
Scientific Investigations Map 3176
Bathymetric Survey of Carroll Creek Tributary to Lake Tuscaloosa, Tuscaloosa County, Alabama, 2010, by K.G. Lee and D.R. Kimbrow
Scientific Investigations Report 2011-5148
Investigation of the Potential Source Area, Contamination Pathway, and Probable Release History of Chlorinated-Solvent-Contaminated Groundwater at the Capital City Plume Site, Montgomery, Alabama, 2008–2010, by James E. Landmeyer, Scott Miller, Bruce G. Campbell, Don A. Vroblesky, Amy C. Gill, and Athena P. Clark
Open-File Report 2011-1027
Assessment of Aquatic Macroinvertebrate Communities in the Autauga Creek Watershed, Autauga County, Alabama, 2009, by Will S. Mooty and Amy C. Gill
Scientific Investigations Report 2010-5066
Flood-Depth Frequency Relations for Rural Streams in Alabama, 2003, by T. S. Hedgecock and K. G. Lee
Scientific Investigations Report 2010-5012
Magnitude and Frequency of Floods for Urban Streams in Alabama, 2007, by T. S. Hedgecock and K. G. Lee

Search our publications