National Disaster Recovery Framework Initiative
On August 27, 2009, FEMA Administrator Craig Fugate announced the establishment of a National Disaster Recovery Framework Working Group. Elizabeth Zimmerman, Assistant Administrator for Disaster Assistance, was appointed to lead the effort. The goal is to engage recovery stakeholders to create a comprehensive coordinating structure that will enhance our ability to work together and effectively deliver recovery assistance.
On September 29, 2009, President Obama announced an effort to examine lessons learned during previous catastrophic disaster recovery efforts, areas for improved collaboration between federal agencies and between the federal government and state and local governments and stakeholders. At the President's request, the Secretaries of Homeland Security and Housing and Urban Development are co-chairing a Long-Term Disaster Recovery Working Group composed of the Secretaries and Administrators of more than 20 departments, agencies and offices. This high-level, strategic initiative will provide operational guidance for recovery organizations as well as make suggestions for future improvement. An intensive stakeholder outreach effort during October and November, 2009, involving State, local, and tribal government representatives, as well as a wide array of private organizations and private non-profit organizations, will inform these efforts.
The National Disaster Recovery Framework Working Group is now co-chaired with HUD and comes under the umbrella of the White House's Long-Term Disaster Recovery Working Group effort. It will provide one of the two main outcomes of the effort. The other outcome is a Report to the President that will summarize the findings of the Working Group.
Draft National Recovery Framework (PDF 830KB, TXT 140KB)

The National Disaster Recovery Framework will:
Define the Federal, State, local, Tribal, private non-profit, private sector roles and individual citizen's roles in disaster recovery.
Design and establish an effective coordinating structure for disaster recovery programs.
Identify gaps, as well as, duplications, in recovery programs and funding.
Establish performance standards for the Federal support of State and local recovery.
Desired Outcome:
Recovery programs and capabilities at all levels of government and in all sectors that function together harmoniously, supported by:
A coordinating structure with defined roles and responsibilities.
Clearly defined measures of success.
A communications strategy designed to keep all stakeholders informed about the recovery arena.
Outcomes are subject to further refinement.
Approach:
Merging efforts with the Long-Term Recovery Working Group, the team will engage Federal agency partners and State, Tribal, local governments, and nongovernmental organizations in a comprehensive collaborative review and shaping of the national approach to managing disaster recovery.
Develop the Framework based on the stakeholders' perceptions of how recovery should be organized and managed. .
Include all stakeholders, particularly those representing traditionally underserved communities, such as children and adults with disabilities, low income, multi-cultural and rural communities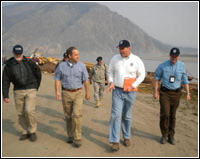 Timeline:
Phase I - Stakeholder Engagement and Concept Design by December 31, 2009.
Phase II - Coordination and Publication by June 1, 2010.
Additional Information:
Useful Links:
Download Plug-in
Some of the links on this page require a plug-in to view them. Links to the plug-ins are available below.

Adobe Acrobat (PDF)
Last Modified: Wednesday, 11-Aug-2010 12:25:10 EDT