NCI is committed to helping enable cancer care and research to continue in the face of catastrophic events. Patients and health care providers have special needs during natural and other disasters. It is important to think ahead, be prepared, and have a plan.
Information for Patients and Health Care Providers
Wallet Card Helps Doctors and Patients Stay Connected During Disasters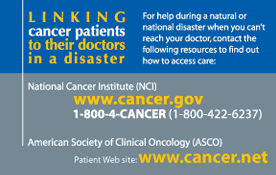 Download/Print English version | Spanish version
NCI and the American Society of Clinical Oncology (ASCO) developed a free wallet card for patients in English and Spanish. The card guides patients to NCI's and ASCO's patient information Web sites and NCI's Cancer Information Service (1-800-4-CANCER) where they can get more information during a disaster. It includes space for critical information in case a patient is seen by a doctor who is unfamiliar with them.
Tips for Patients with Cancer
During a disaster event, cancer patients need to be particularly concerned about certain situations, especially if they become displaced. Cancer patients, especially those on active treatment, can have weakened immune systems and may be at higher risk for infections, bleeding, fatigue, and injury.
Take these important steps to be prepared:
Talk with your health care provider about what to do and how you will stay in contact in the event of a disaster.
Make a plan with your family, friends, and neighbors - whoever may need to help you during a disaster event.
Know your exact diagnosis, cancer stage, and any medications you take. If you are receiving chemotherapy or radiation, know where you are in your treatment cycle.
If you are on a clinical trial, know the trial number (NCT number, preferably), Principal Investigator, hospital, and drugs or treatments being given.
Make sure you have your health care provider's contact information and other important phone numbers with you at all times. Cell phones may not work and batteries can drain, so be sure to have important phone numbers written down on the card or elsewhere.
If you have insurance, make sure to carry your insurance card. Contact your insurance provider in the event you are displaced and need to seek care.
Make a kit with items you may need like dressings, antiseptic, medications, a thermometer, etc. Put them in a zip lock bag to keep them dry.
NCI's Cancer Information Service (CIS) can help with disaster preparation, updates, and where to receive care in the event that a disaster event disrupts care or displaces patients.
Call 1-800-4-CANCER (1-800-422-6237)
Monday through Friday from 8:00 a.m. to 8:00 p.m. Eastern Time in English or Spanish. After business hours, recorded information is available.
Online LiveHelp® chat
NCI's Cancer Information Service and its LiveHelp program offer online assistance in English, Monday through Friday from 8:00 a.m. to 11:00 p.m. Eastern Time.
Information for the Research Community
Additional Resources
HHS Public Health Emergency
Health and safety information portal for all types of disasters from the Department of Health and Human Services (HHS).

Ready America: Get a Kit, Make a Plan, Be Informed
Steps you can take to prepare your family, property, or business in the event of a disaster, from the Ready.gov Web site maintained by the Federal Emergency Management Agency (FEMA).

American Red Cross
Provides assistance after a disaster, from guidance, advocacy, and counseling to providing material items that may include food, shelter, clean-up kits, comfort kits, and financial assistance.