Secondhand Smoke Linked to Memory Problems
Nonsmokers regularly exposed to cigarette smoke forgot nearly 20 percent more in tests, study says.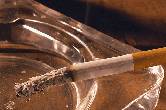 FRIDAY, Sept. 14 (HealthDay News) -- Regular exposure to secondhand smoke has a negative effect on brain function, according to a new British study that found people who live with or spend a significant amount of time with a smoker are damaging their memories.
"According to recent reports by the World Health Organization, exposure to secondhand smoke can have serious consequences on the health of people who have never smoked themselves, but who are exposed to other people's tobacco smoke," Dr. Tom Heffernan, a researcher at the Collaboration for Drug and Alcohol Research Group at Northumbria University, said in a university news release. "Our findings suggest that the deficits associated with secondhand smoke exposure extend to everyday cognitive function."
The researchers compared a group of smokers with two groups of nonsmokers. Participants in one nonsmoking group were exposed to secondhand smoke either at home or in a "smoking area" for an average of 25 hours a week for an average 4.5 years. Those in the other nonsmoking group were not routinely exposed to secondhand smoke.
Study participants from all three groups took a time-based memory test, which required them to perform a task after a set period of time. The also had to recall planned activities in an event-based memory test, which focuses on memory for future intentions.
Nonsmokers who were exposed to secondhand smoke forgot almost 20 percent more in the memory tests than the other nonsmoking group did, the study revealed.
Smokers performed the worst of all on the memory tests. They forgot 30 percent more than those who were not exposed to secondhand smoke.
"We hope our work will stimulate further research in the field in order to gain a better understanding of the links between exposure to secondhand smoke, health problems and everyday cognitive function," Heffernan said.
The study was recently published online in the journal Addiction.
While the study found an association between secondhand smoke exposure and worse memory function, it did not prove a cause-and-effect relationship.
More information
The U.S. Centers for Disease Control and Prevention talks about health hazards from secondhand smoke.
(SOURCE: Northumbria University, news release, Sept. 11, 2012)
Copyright © 2012 HealthDay.

All rights reserved.
HealthDayNews articles are derived from various sources and do not reflect federal policy. healthfinder.gov does not endorse opinions, products, or services that may appear in news stories. For more information on health topics in the news, visit Health News on healthfinder.gov.