---
4 Eating Habits May Help Older Women Maintain Weight Loss
In 4-year study, those who kept pounds off decreased 3 food groups and increased fruits, vegetables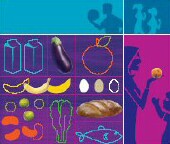 TUESDAY, Aug. 28 (HealthDay News) -- Older women who want to keep off weight -- no small feat for many after menopause -- might consider four specific eating behaviors, according to new research.
"Losing weight and maintaining a weight loss is incredibly difficult," said Bethany Barone Gibbs, an assistant professor of health and physical activity at the University of Pittsburgh.
She looked at both short-term and long-term changes made by nearly 500 overweight or obese women, all in their late 50s.
She found specific eating habits linked with weight loss -- or no weight loss.
Long-term, those who decreased desserts, sugary beverages and cheeses and meats (which were grouped together) and increased fruits and vegetables did best.
The study is published in the September issue of the Journal of the Academy of Nutrition and Dietetics.
Barone Gibbs looked at two time points -- six months and four years. The behavior changes at the six-month mark linked with weight changes were not the same as those linked with weight control at the four-year mark.
At six months, eating fewer desserts, eating fewer fried foods, drinking fewer sugary beverages, eating more fish and eating out less were linked with more weight loss.
However, at the four-year mark, not all those behaviors were still linked with weight loss. This finding suggests that some behaviors aren't typically maintained long-term, she said.
For instance, the link between reducing fried foods and weight control dropped out at the four-year mark. "Maybe you can say no French fries for six months," she said, but not forever.
Long term, those who ate more fruits and vegetables and less meat and cheese were more likely to sustain weight loss.
The changes in diet and weight were small. "If you increased your fruits and vegetables by two servings a day [over whatever you ate before], that was associated with a three-pound weight loss at the end of four years," she said.
Decreasing sugary beverages by 16 ounces daily was also linked with about a three-pound loss after four years.
Those strategies that worked at the four-year mark seem worth adopting if women want to lose weight and maintain the loss, Barone Gibbs said.
She mined the data from an earlier study of women, activity and nutrition. In that original study, researchers evaluated how lifestyle interventions affected heart health.
Barone Gibbs took the information collected and determined which eating habits were linked with more weight loss.
In the earlier study, the 481 women were assigned at random to a lifestyle-change group or a health-education group. Those in the lifestyle-change group met with experts throughout the study and aimed to follow healthier habits, such as boosting fruits and vegetables. The health-education group was offered seminars on women's health, but not specifically weight-loss advice.
Barone Gibbs found an association between the eating habits and weight control, but the research did not prove cause and effect.
More than one-third of Americans are obese, according to the U.S. Centers for Disease Control and Prevention. Among older women, natural declines in energy output -- that is, many become sedentary -- could make long-term weight loss more challenging, according to Barone Gibbs.
Some older women blame weight gain on a slower metabolism, but the process is more complicated than that. As people age, their amount of muscle declines and their amount of body fat rises, so they burn fewer calories.
It is ultimately not your metabolism speed that determines if you are too heavy, experts say, but the amount you eat and how much activity you get.
"This study provides a glimpse at why changes in eating patterns must be maintainable for weight loss to be sustainable," said Connie Diekman, director of university nutrition at Washington University in St. Louis.
"The study supports the fact that diets don't work but small steps in behavior change can help with weight loss," Diekman said.
However, this study is not the final word on the subject, she said. "Since the study did not set out to establish cause and effect, more studies would be helpful," she said.
More information
To learn about weight and health, visit the Academy of Nutrition and Dietetics
.