healthnewslink
Diet and Fitness Newsletter
September 10, 2012
In this Issue
---
Water or Sports Drink?
Plain old H2O is usually the better choice, expert says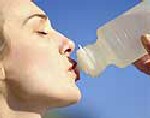 SUNDAY, Sept. 9 (HealthDay News) -- In most cases, water is a better choice than a sports drink when you're thirsty, an expert says.
"Sports drinks shouldn't take the place of regular water intake," Brooke Schantz, a registered dietitian and certified specialist in sports dietetics at Loyola University Health System in Illinois, said in a university news release.
"Yes, [sports drinks] will help hydrate you, but the average healthy child, adolescent and adult doesn't need the extra carbohydrates and calories that come with consuming these sugary beverages," she explained.
Because they contain carbohydrates, sports drinks such as Gatorade, Powerade or Cytomax can be beneficial during long workouts. People who exercise for one hour or more should consume between 30 grams and 60 grams of carbohydrates -- the body's main energy source -- to help maintain blood sugar levels. Most sports drinks contain 4 percent to 8 percent of carbohydrates.
"Consuming these beverages during exercise that lasts more than one hour can aid in hydration and help provide needed energy to hard-working muscles," Schantz said.
She offered the following advice to clear up confusion about what to drink and when to drink it.
Choose water while sitting on the couch; while doing a three-mile run or bike ride; or while sitting at your desk studying or working.
Choose a sports drink when you're physically active for more than one hour; exercising in extreme environments, such as severe heat or humidity, the cold, or at a high altitude; if you have not had a high-quality pre-workout meal to sustain your physical activity; or if you are a wrestler or participant in another sport where you limit your energy intake prior to a weigh-in.
More information
The President's Council on Fitness, Sports and Nutrition offers fast facts about sports nutrition.

---
Experts Offer Tips to Help Keep Fall Sports Injury Free
Football, soccer, volleyball players urged to take proper safety measures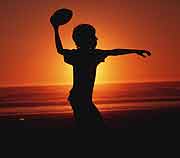 SATURDAY, Sept. 8 (HealthDay News) -- Fall sports such as soccer, football and volleyball are in high gear and players need to take steps to prevent injuries, experts say.
In 2011, there were about 1.2 million people treated for football-related injuries in U.S. emergency rooms and doctors' offices, along with more than 581,000 treated for soccer injuries and more than 170,000 treated for volleyball injuries, according to the U.S. Consumer Product Safety Commission.
"Not all injuries can be prevented, however many can be avoided," orthopedic surgeon and American Academy of Orthopaedic Surgeons spokesperson Dr. Jeffrey Abrams said in an AAOS news release.
"The fact is, when one decides to participate in a sport, he or she needs to consider everything that comes with the territory. That includes taking the responsibility to follow proper safety measures such as warming up, and completing a health and wellness evaluation to determine their ability to play in the game before each season," Abrams advised.
The AAOS, the American Orthopaedic Society for Sports Medicine and the STOP Sports Injuries campaign offer the following safety tips:
Have a pre-season physical examination and follow your doctor's recommendations.
Always wear the appropriate protective gear, such as helmets, mouth guards, pads or fitted cleats.
Take time to warm up and cool down properly with low-impact exercises that gradually increase or slow heart rate.
Minimize overuse injuries by playing multiple positions and different sports during the off-season.
Keep track of weather conditions in order to avoid heat illness or wet, slippery conditions that can lead to injuries.
Make sure to do strength training and stretching.
Drink enough to stay hydrated. If you wait until you're thirsty, it may be too late to hydrate properly.
Never play through the pain. If you have an injury, seek medical help.
Don't overtrain. If you develop pain or discomfort, decrease your training time and intensity. This will lower your risk of injury and help you avoid burnout.
More information
The U.S. National Institute of Arthritis and Musculoskeletal and Skin Diseases has more about sports injuries and prevention.

---
Lettuce: Buy Bagged or Not?
Experts say recent recalls of pre-cut produce don't make it less safe than purchasing in bulk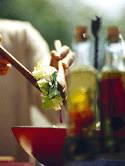 FRIDAY, Sept. 7 (HealthDay News) -- Six separate recalls of bagged lettuce since April haven't done much to bolster the public's confidence in pre-cut and pre-washed greens.
So what is one to do when faced with multiple choices in the produce aisle? Should it be bagged lettuce or au naturel?
The short answer is to go with your personal preference, but be sure to wash whatever you choose, whether it's bagged or not.
"I wouldn't make much of a distinction between them in terms of food safety," said Dr. Ken Spaeth, director of the Occupational and Environmental Medicine Center at North Shore University Hospital, in Manhasset, N.Y. "They should both be approached by consumers as generally safe items that require thorough washing before use."
Dr. Philip Tierno, director of clinical microbiology and immunology at the NYU Langone Medical Center in New York City, prefers the bagged lettuce because it generally is pre-washed -- and he washes it again at home.
Most of the recent recalls have been due to contamination with listeria, a type of bacteria ubiquitous in the environment. Listeria not only survives but also thrives in the colder temperatures of a refrigerator.
"It reproduces and increases in colony count," said Tierno, who also is the author of The Secret Life of Germs.
These two factors make it easy for listeria to linger long enough to end up on the products people eat, often transferred onto produce and other foods by humans who, say, aren't in the habit of washing their hands.
Humans carry listeria naturally in their intestines, but not in numbers sufficient to cause problems. If, however, listeria has been prospering in your refrigerator, your head or bag of lettuce may provide enough pathogens to cross a nasty threshold, experts say.
Bagged lettuce -- once it hits the supermarket -- likely has fewer bacteria than loose lettuce, as it usually is triple washed (one cycle with chlorine) and customers, sans gloves, haven't been touching and feeling it.
The triple-washing process usually kills about 90 percent of potential organisms, but that can still leave a lot, said Tierno.
Here are some food safety tips when it comes to raw produce:
The U.S. Food and Drug Administration recommends washing your hands with soap and warm water for at least 20 seconds both before and after preparing fresh produce.
Also clean any surfaces you will be using, such as countertops and cutting boards, advised Tierno.
Then, of course, wash the produce, even adding a bit of lemon or chlorine to more thoroughly sanitize it, he said.
Never put produce in the kitchen sink. "The sink and drain contain millions of bacteria per square inch," said Tierno.
"Washing is not a guarantee that you'll avoid contamination, but it would certainly reduce the risk," said Spaeth. "On the whole, produce is quite safe. While we want to be responsible in regards to cleaning produce, once we have it in the house there's no basis to be panicky."
More information
The U.S. Food and Drug Administration has more on safe handling practices for raw produce.

---
Survival More Likely With Exercise-Related Cardiac Arrest: Study
Many benefitted from bystander CPR
THURSDAY, Aug. 30 (HealthDay News) -- People who suffer a cardiac arrest during or shortly after exercise are three times more likely to survive than those who have a cardiac arrest not linked to exercise, a new study finds.
Sudden cardiac arrest results from an abnormal heart rhythm that causes the heart to stop beating.
Researchers in the Netherlands looked at more than 2,500 out-of-hospital cardiac arrests in the greater Amsterdam area between 2006 and 2009. Of those, 145 occurred in people who were exercising or had exercised within the previous hour, including 49 who were bicycling, 22 who were playing tennis, 16 who were doing a gym workout, and 13 who were swimming.
The survival rate for patients in the exercise group was 45 percent, compared with 15 percent in the non-exercise group. None of the survivors in the exercise group suffered serious brain damage, which did occur in some of the survivors in the non-exercise group.
The patients in the exercise group were younger (average age 59 versus 66) and more likely to be male than those in the non-exercise group. The exercise-related heart attacks occurred more frequently in public places (99 percent versus 25 percent), were more frequently witnessed (89 percent versus 76 percent), and had higher rates of bystander CPR (86 percent versus 64 percent) and automated external defibrillator use (35 percent versus 22 percent).
The study was presented Sunday at the European Society of Cardiology Congress in Munich. The data and conclusions of research presented at medical meetings should be viewed as preliminary until published in a peer-reviewed journal.
"The remarkably good survival of victims of exercise-related out-of-hospital cardiac arrest can partially be ascribed to the fact that they are younger and more likely to suffer the arrest in a public location, leading to bystander cardiopulmonary resuscitation, often with the use of an automated external defibrillator. Taking these factors into account, exercise, per se, also contributes to a better outcome," study author Dr. Arend Mosterd said in a society news release.
"More research is needed to determine why, after taking into account favorable factors such as age, location of the event and initiation of CPR, persons who exercise during or shortly before having a cardiac arrest still have a better prognosis than people who have a cardiac arrest that is unrelated to exercise," he added.
More information
The U.S. National Heart, Lung, and Blood Institute has more about sudden cardiac arrest.

Copyright © 2012 ScoutNews, LLC. All rights reserved.