MyCare: Judy L. in Golden, CO
YouTube requires JavaScript to view videos
You will need the latest version of Adobe Flash Player to watch the video. Show Transcript
Judy: The Affordable Care Act has totally meant peace of mind, you know I don't worry about things anymore, I don't, I'm not stayin' up at night worrying about how I'm gonna pay for this.
My name is Judy; I am a breast cancer survivor. I've had breast cancer for the last 17 years, I have been in active treatment for 8 years. So I go to the doctor every week and get chemotherapy.
Nurse: And this is is your Taxol.
Judy: Great, OK, this is me, OK, good.
Nurse: Let's get you hooked up.
Judy: It's breast cancer, that's gone to my bones and it also went to my liver and so I've had radiation to my liver and into my bones-I've had radiation into my spine.
You know I always have worried about the cap, my care is very expensive. I mean it's bad enough that you have cancer but then you have to worry about the insurance companies cutting you off, I would die.
Last year I spent $250,000 the insurance company did for my care and the year before it was close to $500,000.
But the cap used to be two million, so that's close, you know it's really close so I think I would hit my cap probably in two to three years.
There's no way that I could afford my treatment, it's just too much money. Yeah and she's gonna graduate in two weeks
Oncologist: So the next goal is graduating from college?
Judy: Yes
It's so wonderful that there's no cap anymore, I mean that is such a relief-it really is such a relief.
Judy's daughter: So how's your treatment been going?
Judy: Good, good.
I have cancer, I get chemo every week but I still have a wonderful life, I'm able to travel, I'm able to spend time with my kids, I can drive my car, it's a wonderful life.
You can live your life and have cancer and you can live your life without worry because of the Affordable Care Act. The health care is about people like me. Its Judy Care.
NOTE: The transcript for this program may have been compiled from uncorrected Closed Captioning.
Live Webcasts
Upcoming Events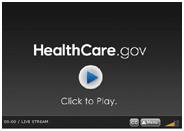 No Events Scheduled
There are currently no events scheduled for this channel.
Open for Questions with HHS and WebMD
Wednesday, August 1, 2012
Secretary Sebelius and WebMD held a live online discussion on women's preventive services.
Subscribe
Get email updates on the latest videos.
Videos
Medicare and the Affordable Care Act
Special Programs
The Health Care Law & You
Press Briefings and Events
About HealthCare.gov
Women's Health
MyCare