Print Friendly
Summer Tour Hours (Memorial Day through Labor Day): Monday through Saturday, 9:00AM to 4:30PM.
Open Saturday, Sunday and Monday of Labor Day weekend, 9:00AM to 4:30PM.
Tour Hours after Labor Day: Monday through Friday, 9:00AM to 4:30PM.
For further tour information, please call 215-408-0112, 24-hours a day.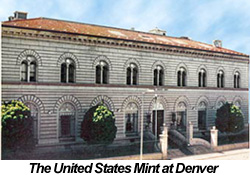 The United States Mint offers tours in its Philadelphia and Denver locations. At both facilities, the tours are free. Touring the United States Mint is a fascinating experience for those of all ages and one that will be remembered for a lifetime. Tours cover both the present state of coin manufacturing as well as the history of the Mint. Learn about the craftsmanship required at all stages of the minting process, from the original designs and sculptures to the actual striking of the coins. Click on the photo from either city for details on hours, addresses, and how to tour the facility. Brochures are also available at each facility and can be downloaded as PDFs. Get the Philadelphia brochure (3.3 mb) | Denver brochure (369 kb).
Both of the Mint locations welcome school and youth groups (grades kindergarten through 12), and organized military and veteran groups and are wheelchair accessible. At the Philadelphia Mint facility, a wheelchair is also available for individuals who need assistance and office personnel can provide private tours to handicapped or older individuals who request assistance.
The United States Mint staff is pleased to present a Virtual Tour of its facilities. Come inside as we illustrate how the United States Mint fulfills its mission to make, sell, and protect United States circulating coins. We'll describe the design process and show you around the engraving rooms and production floors.
The United States Mint Virtual Tour focuses on how the United States Mint makes circulating coins. Although the Virtual Tour may depict sights and sounds from facilities such as those in Philadelphia and Denver, it does not intend to replicate specific plants or processes exactly. Instead, the Virtual Tour offers a general overview of how the United States Mint designs and manufactures its products.
To view this United States Mint Interactive feature, you need the Adobe Flash Player™. The player is a FREE download available from Adobe.
If you feel you have reached this page in error, please click here to view the Flash version.
Go to the Virtual Tour (Flash player 7 required)
While the United States Mint does not have a production facility at its Washington, D.C., headquarters, there is a sales kiosk located in Union Station. The next time you are in town, stop by and see some of the interesting products that are now available from the United States Mint.
The Union Station kiosk offers the latest commemorative and annual coin sets, the popular new America the Beautiful Quarters®, collector folders, medals and more. Customers may pay with cash, checks and most major credit cards. The kiosk is located in the Main Hall (East End) of Union Station, 50 Massachusetts Avenue NE. Its hours of operation are Monday - Saturday, 10:00 a.m. - 6:00 p.m. and Sunday, 12:00 noon - 6:00 p.m. Please call (202) 289-0609 for directions and product availability. Please call the United States Mint's Office of Public Affairs at 202-354-7227 for all other inquiries.
The United States Mint recently opened a second retail sales outlet in Washington, DC, located in the lobby of the United States Mint headquarters at 801 9th Street, N.W. The headquarters building is conveniently located one block south of the Washington Convention Center and close to the Gallery Place/Chinatown metro station. Among other coin products, the Headquarters Sales Counter offers the latest commemorative and annual coins, the most recently issued state quarters, collector maps and medals. Hours of operation are Monday — Friday, 10:00 a.m. — 4:00 p.m.; and closed weekends and holidays. Please call (202) 354-6800 to inquire about directions or product availability at this location.