Social Media @ SAMHSA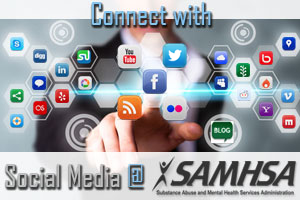 SAMHSA on the "Social Web"
While experimenting with new ways to engage, we are making every effort to proceed deliberately and we are dedicated to observing the requirements related to federal activities such as transparency, public process, and privacy. Furthermore, SAMHSA does not endorse any particular social media site or technique.
Social Media
"Social media" and "Web 2.0" refer to Web sites that people use to share information and ideas. These sites include blogs, video & image sharing sites and social networks. What makes social media Web sites distinct from more traditional sites is that they are inherently participatory and there is a built-in expectation of interactivity and sharing.
One of the most exciting aspects of these new tools is their ability to empower stakeholders to help us raise the visibility of our mission-driven priorities and initiatives. However, these tools are more than just an additional channel to share information and we recognize that social media is built on two-way conversations. As we continue develop our use of social media, we encourage feedback to let us know how we are doing and where we can improve.

Social Data
In addition to traditional social media tools, we are also experimenting with our own solution to share information—SAMHSA Information Tools. Through this tool the public can easily find, access, and manipulate several datasets from SAMHSA. Our goal is to increase the availability and visibility of SAMHSA information while offering tools for analysis and visualization. Information can also be mashed up with other sources. This is a pilot initiative and additional information will be uploaded.
For more information about how the Department of Health and Human Services is using social media, please visit the HHS Center for New Media Website or see these other resources from CDC and AIDS.gov.
Social Health
Social media provides entirely new ways to engage the public around health. However, the sharing of health information and data across a wide range of platforms also opens new challenges for public health communicators. In an effort to assist the public health community in developing and adopting best practices in the use of social media, SAMHSA has established the Social Health Hub.

SAMHSA participates on the following social media sites:
Twitter
Twitter lets users subscribe to receive brief updates or "tweets" (a maximum 140 characters) from others whom they choose to "follow." SAMHSA tweets include various announcements and usually links.
Facebook
Facebook lets users create their own sets of "friends" among whom they share brief updates, photos, links, or other information. Similarly, SAMHSA's Facebook page offers users a place to follow SAMHSA's updates and share information.
YouTube
YouTube is a video sharing platform that allows viewers to watch videos on the YouTube site, on many mobile devices and on other sites and blogs that have embedded YouTube videos on their pages. SAMHSA's YouTube page provides an opportunity to share our information and ideas with a wide audience though a compelling, and increasingly popular, medium.
Flickr
Flickr is an image sharing community that allows people to upload, share, comment and rate images. SAMHSA is piloting a Flickr project with photos as part of the 2010 Children's Mental Health Awareness Day events in Washington D.C.
Blog
Blogs let an organization or individual openly share articles, news, updates, photos, and videos in an interactive diary-type commentary. The SAMHSA blog provides another opportunity to share information and encourage real-time feedback from our constituents.
Last updated: 04/29/2011
Connect with SAMHSA
Get connected with SAMHSA by following us through these services:
Featured Resource
Behavioral Health and Social Media