Contact Us
Problems with this Web site? - Found a broken link? Unable to access a database? Need other technical assistance on our site? Report site problems or suggest improvements.

View frequent questions or ask a question - On our Frequent Questions page, you can

find FAQs for specific EPA programs,
search EPA's Frequent Questions Database, and
submit your own question or comment through the database.




Comment on EPA regulations - Our proposed regulations are almost always open to the public for comment. You may comment on them in several ways. Each rule tells you how in its "Addresses" section.

Connect with us and share your thoughts - EPA is using social media tools. EPA doesn't endorse any particular social media site or technique.

Call or e-mail a hotline - View phone numbers and Web sites for assistance with your questions.

Find a mailing address




Locate an EPA employee - Identify EPA employees by name and location. EPA Directory Assistance is available by calling (202) 272-0167.

Access our libraries - Our librarians can help you get information about the environment and related scientific, technical, management, and policy information.
Where You Live
EPA has ten Regional offices, each of which is responsible for several states and territories. To get information about your Region, select your state or territory from the map below.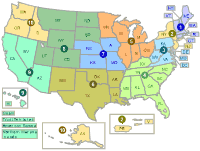 View FAQs specific to your part of the nation
> Find mailing addresses for EPA Regional offices