Industrial Designers Honored with New Stamps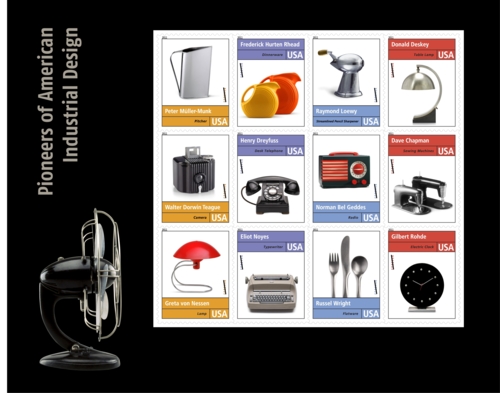 Twelve industrial designers have been honored by the United States Postal Service with a new set of Forever stamps. The Pioneers of American Industrial Design stamp pane features some of the nation's most significant industrial designers from the past century. The work of these designers has changed and improved everyday life in the 20th century. From furniture to electronics, these designers have greatly improved the way we live.
Below, we highlight some of the designers honored in the new stamps. Featured on each stamp is the designer's name, a photograph of an object they created, as well as a description and the year it was created.
Walter Dorwin Teague: Teague, known as the "dean of industrial design" created several cameras, through a partnership with Eastman Kodak Company. Created in 1934, "Baby Brownie" is featured on the stamp, which included art deco styling, and a viewfinder that popped down when not being used.
Raymond Loewy: One of the most influential industrial designers of the 20th century, Loewy shaped the look of modern America. His firm designed cars, furniture, company logos, and office tools, such as the pencil sharpener featured in the USPS stamp set.
Dave Chapman: Chapman is most known for modernizing classroom furniture and creating award-winning designs for household appliances. In 1947, Chapman modernized the sewing machine, giving it a sleek design like car designers were doing at the time. Chapman worked with clients such as Corning Glass, Maytag and Sears.
Learn about all the featured designers and see their stamps.
We welcome your comments if you are 13 or older, and hope that our conversations here will be polite. You are responsible for the content of your comments.
We do not discriminate against any views, but may delete any of the following:
violent, obscene, profane, hateful, or racist comments
comments that threaten or harm the reputation of any person or organization
advertisements or solicitations of any kind
comments that suggest or encourage illegal activity
multiple off-topic posts or repetitive posts that are copied and pasted
personal information including, but not limited to, e-mail addresses, telephone numbers, mailing addresses, or identification numbers
In short: be nice and add to the discussion. If you continually violate this policy, we may limit your ability to comment in the future. If you have any questions or comments about this policy, please e-mail us.