Past, Present, and Future Research
Past: Published Research Results | Present: Ongoing Studies | Future: New Research Opportunities
Past: Published Research Results
Scientific Literature
You can find published results from medical research studies, including those funded by the NHLBI, through the National Library of Medicine's NLM Gateway. Visit the help section for hints on limiting searches and saving results.
---
Present: Ongoing Studies
The Year in Review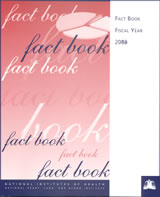 The Fact Book is a compilation of NHLBI activities for the previous fiscal year. It contains information on
grants,
contracts,
clinical trials, and
career development programs.
It also includes
background on scientific programs in the NHLBI,
a list of historical events,
an overview of fiscal trends, and
a description of the development of Institute initiatives.
Research Studies
The CRISP database from NIH provides information about biomedical research projects that are supported by the federal government, including those sponsored by the NHLBI. CRISP, which stands for computer retrieval of information on scientific projects, displays abstracts submitted by investigators as part of their applications for research grant funding. Because this information is part of the research proposal, speculative hypotheses and data contained therein should be considered preliminary only.
If you are interested in viewing only projects supported by the NHLBI, open the database by selecting "Go to CRISP Current Awards Query Form" enter your search terms in the space provided but limit your search by defining "Institutes, Centers, and Division": as "NHLBI - Heart, Lung & Blood".
Clinical Trials
The NHLBI is sponsoring clinical trials that are recruiting patients. The NHLBI Clinical Trials Database provides information including eligibility criteria for participation and the location of trial sites. Patients who may be interested in participating in the clinical studies should ask their own physician to contact the person listed for that study.
In addition to sponsoring research in universities, medical centers, and hospitals, NHLBI researchers and others from the NIH conduct research on the NIH campus. The NIH's Clinical Studies page contains a database of studies at the NIH, including those supported by the NHLBI. You can search the database by diagnosis, sign, symptom, or other key words or phrases.
ClinicalTrials.gov, an NIH clinical trials database, contains information on medical studies involving patients and others at thousands of locations nationwide. The Understanding Clinical Trials link provides information explaining and describing clinical trials.
---
Future: New Research Opportunities
Funding Opportunities for Specific Research Activities
From time to time, the NHLBI solicits research proposals on particular topics and maintains a Web page of active solicitations. All NHLBI-initiated research opportunities also are listed on the NIH Guide to Grants and Contracts. You can use the NIH Guide's search engine to find announcements on a specific subject, or find out about new initiatives by subscribing to the weekly NIH Guide Table of Contents Notification LISTSERV service.
Extraordinary Opportunities for Investment

The NHLBI Strategic Plan outlines the Institute's vision of exciting new research directions tha should be pursued over the next 2-5 years. The plan highlights important scientific opportunities and steps that can be taken to address them.

The NHLBI Strategic Plan to Address Health Disparities describes the NHLBI's committment to:

understanding why some diseases develop differently in minorities than in whites
diagnosing, treating, preventing, and controlling cardiovascular, lung, and blood diseases and sleep disorders in minority populations
increasing the number of minority individuals researching cardiovascular, lung, and blood diseases and sleep disorders
---
Please send us your feedback, comments, and questions by using the appropriate link on the page, Contact the NHLBI.

Note to users of screen readers and other assistive technologies: please report your problems here.
Last Updated 6/6/05
[Top of Page]
NHLBI Express
NHLBI Search