About the National Center for Emerging and Zoonotic Infectious Diseases
The National Center for Emerging and Zoonotic Infectious Diseases aims to prevent disease, disability, and death caused by a wide range of infectious diseases. We focus on diseases that have been around for many years, emerging diseases (those that are new or just recently identified), and zoonotic diseases (those spread from animals to people). Our work is guided in part by a holistic "One Health" strategy, which recognizes the vital interconnectedness of microbes and the environment. Through a comprehensive approach involving many scientific disciplines, we can attain better health for humans and animals and improve our environment. 
To carry out our mission, we use many different tactics: providing leadership in public health, conducting exemplary science, strengthening preparedness efforts, establishing public health policy, sharing vital health information with the public, and building partnerships. Each of the center's seven divisions works with partners to protect and improve the public's health in the United States and worldwide. More about the center, director, organization chart»
Emerging and Zoonotic Diseases — At a Glance
Zoonotic diseases: Approximately 75% of recently emerging infectious diseases affecting humans are diseases of animal origin; approximately 60% of all human pathogens are zoonotic.
Refugee health: An estimated 50,000 to 70,000 refugees are resettled to the United States each year. These individuals can suffer from many health conditions— infectious diseases, malnutrition, and post-traumatic stress disorder caused by war.
Foodborne illness: Food-related diseases affect tens of millions of people and kill thousands and cause more than $9 billion in health care-related costs each year. Preventing a single fatal case of E. coli O157 infection would save an estimated $7 million.
Waterborne illness: Water, the world's most precious commodity, is a primary resource for drinking, recreation, healthcare, industry, and agriculture. Globally, over 900 million people lack access to healthy water; in the United States, there are millions of cases of waterborne illness each year.
Healthcare-associated infections: Nearly 2 million people get infections while in U.S. hospitals each year. Almost 100,000 of them die as a result.  The two most common causes are Methicillin-resitant Staphylococcus aureus (MRSA) and Clostridium difficile (C. diff).
Vectorborne diseases: There have been 1.5 million West Nile virus infections since 1999. 2.5 billion people are at risk for dengue in more than 100 endemic countries with 50 million cases of dengue fever each year.
Immunization safety: Monitoring health problems after vaccination is essential to ensure the United States continues to have the safest, most effective vaccine supply in history. CDC's Immunization Safety Office identifies possible vaccine side effects and conducts studies to determine whether a health problem is caused by a specific vaccine.
CLIA Certificates
CDC laboratories that perform clinical testing (except clinical trials and basic research) must adhere to Clinical Laboratory Improvement Amendments (CLIA) requirements and maintain current certification of CLIA compliance. Certificates are available for viewing and printing.
CDC's Infectious Disease Framework
A CDC Framework for Preventing Infectious Diseases: Sustaining the Essentials and Innovating for the Future, CDC's ID Framework, is a roadmap for improving our ability to prevent known infectious diseases and to recognize and control rare, highly dangerous, and newly emerging threats, through a strengthened, adaptable, and multi-purpose U.S. public health system. The framework is also designed to guide collective public health action at a time of resource constraints and difficult decisions. Read the Framework »
Outbreaks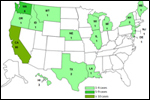 The CDC Current Outbreak List reports infectious disease outbreaksbeing reported on by CDC. Listings include those outbreaks for which content is currently published on the CDC website. Many, but not all outbreaks are investigated by NCEZID.
Emerging Infectious Diseases
About the journal: Emerging Infectious Diseases represents the scientific communications component of CDC's efforts against the threat of emerging infections.
Features

Pet Food and Treats: Tips for Keeping People and Pets Healthy and Safe from Salmonella
A healthy diet is important for pets. But did you know that dry pet food, treats, and supplements can become contaminated with Salmonella, a harmful germ that can make both people and pets sick? To protect you and your pet from getting sick, it is important to know how to correctly purchase, handle, store, and behave when handling dry pet foods and treats.
(Published: September 4, 2012)

Safe and Healthy Hajj 2012
Mass gatherings such as the Hajj are associated with unique health risks. If you are planning to perform Hajj this year–or attend any other large gathering–follow these tips to stay safe and healthy.
(Published: September 4, 2012)
Kids and Rabies
Knowing how to prevent rabies isn't just for adults. Kids can get the facts too.
(Published: August 27, 2012)

Recognize and Prevent MRSA Infections
As kids head back to classrooms and sports venues, parents are encouraged to learn how to recognize and prevent skin infections caused by methicillin-resistant Staphylococcus aureus (MRSA), a type of staph bacteria that is resistant to certain antibiotics.
(Published: August 27, 2012)
Prevent Mosquito Bites
A single mosquito bite can make you sick. Why take a chance? Use repellent on yourself, your friends and your family.
(Published: July 30, 2012)

Animals in Schools and Daycare Settings
Animals can provide important opportunities for entertainment and learning. However, there is also a risk for getting sick or hurt from contact with animals, including those in school and daycare classrooms.
(Published: August 13, 2012)
Contact Us:
Centers for Disease Control and Prevention
1600 Clifton Rd
Atlanta, GA 30333
800-CDC-INFO
(800-232-4636)
TTY: (888) 232-6348
24 Hours/Every Day