Subscribe to HIV/AIDS email updates.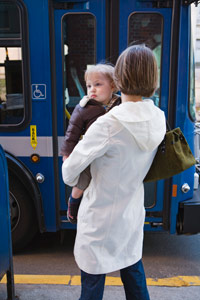 Barriers to care for HIV/AIDS
Women infected with HIV may have less access to or lower use of health care resources. This may be due to:
Fewer financial resources
Fewer health care resources available in the area
Less access to transportation
Added responsibility of caring for others, especially children
Many experts also believe poverty, unemployment, and lack of education are helping to "drive" the growing HIV problem among women. Women living in inner‑city poor neighborhoods are often in poor health and without access to health care for prevention or treatment. While risky behaviors in these communities directly spreads HIV/AIDS, urban poverty is also playing an important role.
Yet, the HIV problem does not only belong to poor neighborhoods in large cities, such as New York and Washington, DC. HIV also affects women in rural communities, particularly in southern states. Researchers in North Carolina found that African-American women with HIV infections were more likely to:
Be unemployed
Receive public assistance
Have had 20 or more lifetime sexual partners
Have a lifetime history of genital herpes infection
Have used crack or cocaine
Have traded sex for drugs, money, or shelter
In addition to these challenges, research has highlighted other issues that affect the lifespan of women with HIV. Studies have shown that women with HIV do not live as long as men with HIV, perhaps because women are less likely to be diagnosed early. Early diagnosis of HIV allows women to benefit more from antiretroviral drugs. Other issues may also play a role in this difference in survival.
Women with HIV may have less access to or lower use of health care resources than men with HIV.
HIV-positive women in abusive relationships may suffer violent reactions from partners.
Women who are homeless have less access to care. Homeless women who are able to get treatment may not be able to stick with care routines because of irregular meals or not having proper places to store medicines.
Some women with HIV may not have people around to provide emotional support or other types of help.
Women may have more barriers to following their HIV medicine regimen. Women may be busy caring for other family members who are sick. They may fear telling their family about their HIV, or may have side effects that discourage them from taking HIV drugs.
More information on barriers to care for HIV/AIDS
Explore other publications and websites
Connect with other organizations
Content last updated July 1, 2011.
Resources last updated July 1, 2011.
---
womenshealth.gov
A federal government website managed by the Office on Women's Health in the Office of the Assistant Secretary for Health at the U.S. Department of Health and Human Services.
200 Independence Avenue, S.W. • Washington, DC 20201