RECOGNIZE

Phone Fraud

Learn about common telemarketing scams and how to avoid them.
REPORT

Phone Fraud

Your complaint helps law enforcement officials track down scam artists and stop them.
REGISTER For the National
Do Not Call Registry The Registry gives you a choice about whether to receive telemarketing calls at home.
Partner Resources
The Federal Trade Commission (FTC) has information you can use to help others avoid telemarketing fraud. The Who's Calling? website has tips, information, videos, and online tools that you can post on your site to link it to the FTC site.

You can download, print, and copy the Who's Calling? brochure. (Requires Adobe Acrobat)
Or you can order free copies from www.ftc.gov/bulkorder.
Help fight telemarketing fraud by educating your employees, members, constituents, friends, and customers about how they can recognize it and report it. Use or adapt the free materials at ftc.gov/phonefraud in your own communications.
Here are some ideas on how to use this information in your ongoing communications efforts:
Link to ftc.gov/phonefraud from your website. Free web badges are below.

Include Who's Calling? information in your print and online newsletters. Reprint one of our articles or write your own.

Distribute brochures in your workplace, to your constituents, at conferences, professional meetings, etc. You can order free copies at ftc.gov/bulkorder.

Ask clubs, local government agencies, or community organizations with which you are involved to post a link to ftc.gov/phonefraud on their websites.

Send information about Who's Calling? to organizations that may want to partner in the campaign, asking them to promote the website and its messages through their newsletters or other communications.
If you would like to discuss an idea for how you can partner with Who's Calling?, please email outreach@ftc.gov
Badges
Copy the code below the badges and paste it into your web page.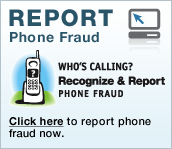 Report Phone Fraud (172 x 149)
Recognize Phone Fraud (200 x 144)
Do You Know Who's Calling? (368 x 312)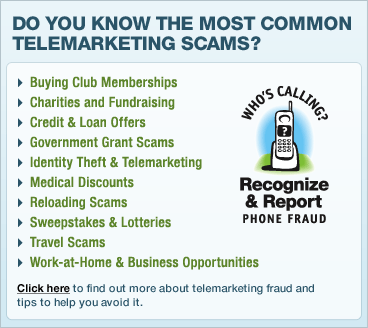 Do You Know The Most Common Telemarketing Scams? (368 x 328)