NM ASSIST: Screening for Tobacco, Alcohol and Other Drug Use
Clinician's Screening Tool
(NIDA-Modified Alcohol, Smoking, and Substance Involvement Screening Test or NM ASSIST) This Web-based interactive tool guides clinicians through a short series of screening questions and, based on the patient's responses, generates a substance involvement score that suggests the level of intervention needed. The tool also provides links to resources for conducting a brief intervention and treatment referral, if warranted.
Note: NIDA recommends reading the Resource Guide before using the screening tool with your patients.
Screening Tool Quick Reference Guide
This abbreviated guide provides a "snapshot" of the online screening tool and serves as a handy resource for clinicians when they are away from their computers. Designed to fit in a coat pocket, this guide provides an abbreviated version of the tool and instructions on its use.
Clinician's Resource Guide
This online resource guide supplements the NIDA-Modified ASSIST and provides more detailed instructions to clinicians on how to use the screening tool, discuss screening results, offer brief interventions, and make necessary referrals. The guide also includes information on how to conduct biological specimen screening, access training materials, and locate substance abuse treatment.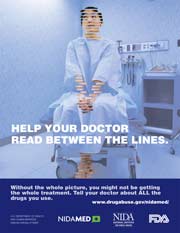 Patient-Physician Conversation Poster/Postcard
A complement to the physician screening materials, the purpose of these patient-tested materials is to encourage patients to talk about all of the drugs they use, including tobacco, alcohol, illicit drugs, and over-the-counter and prescription medications during their office visit.
By displaying this poster/postcards and helping to start this important dialogue, physicians and other healthcare providers will be better able to (1) prevent their patients? use from escalating to abuse or addiction, (2) treat their patients? other health conditions, and (3) refer patients in need of specialty drug abuse treatment sooner.
The purpose of these one page handouts is for you to help your at-risk or addicted patient, whether or not they are ready to enter treatment, better understand the consequences of abusing marijuana (PDF, 94KB) and prescription drugs (PDF, 86KB), as well provide them with more information about treatment options (PDF, 86KB).