Violence Prevention
Helping people live to their fullest potential.
Violence is a serious public health problem in the United States. From infants to the elderly, it affects people in all stages of life. In 2009, almost 16,800 people were victims of homicide and nearly 37,000 took their own life.
The number of violent deaths tells only part of the story. Many more survive violence and are left with permanent physical and emotional scars. Violence also erodes communities by reducing productivity, decreasing property values, and disrupting social services.
CDC is committed to stopping violence before it begins.
New Data: National Suicide Statistics At A Glance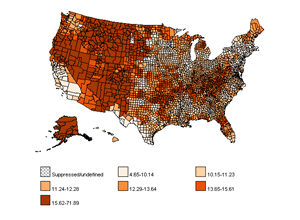 Data from the National Violent Death Reporting System (NVDRS) provide information on suicides by associated circumstances for the 16 participating states and Youth Risk Behavior Survey System (YRBSS) data are used to illustrate prevalence of suicide thoughts, plans, and attempts. These data can be used by public health officials, researchers, practitioners and the public to better understand the burden of suicide, population subgroups at risk, and the need for effective prevention efforts.
Latest CDC Publication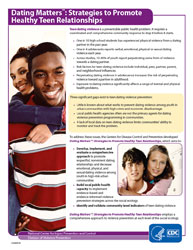 Dating Matters™: Strategies to Promote Healthy Teen Relationships employs a comprehensive approach to violence prevention at each level of the social ecology. Teen dating violence is a preventable public health problem. It requires a coordinated and comprehensive community response to stop it before it starts.
Funded Programs & Initiatives
Get email updates
To receive email updates about this page, enter your email address:
Contact Us:
Centers for Disease Control and Prevention
National Center for Injury Prevention and Control (NCIPC)
4770 Buford Hwy, NE
MS F-63
Atlanta, GA 30341-3717
800-CDC-INFO
(800-232-4636)
TTY: (888) 232-6348
New Hours of Operation:
8am-8pm ET/
Monday-Friday
Closed Holidays