A Doctor-Patient Dialogue on Electronic Health Records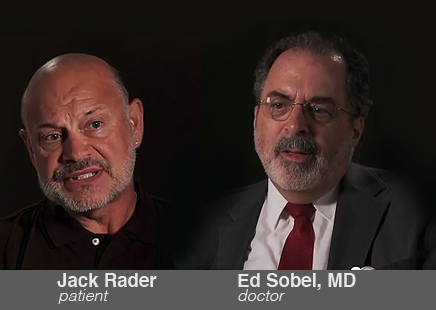 Jack Rader, left, and his doctor, Edward Sobel, talk about what electronic health records mean to them and to the doctor-patient relationship.
Dr. Edward Sobel was one of 23 physicians and medical practices who were recognized by the Delaware Health Information Technology Regional Extension Center (REC) for being among the first in the State to meet Federal meaningful use requirements. This milestone made them eligible for Recovery Act-funded Medicare incentive payments for converting from paper medical records to meaningfully using certified electronic health records (EHRs), and Dr. Sobel indeed received an incentive payment.
After the Delaware ceremony, Dr. Sobel and his patient Jack Rader discussed the benefits of EHRs and what they have meant to their relationship and the practice of health care. 
The Medicare and Medicaid EHR Incentive Program is administered by the Centers for Medicare and Medicaid Services. RECs are also funded by the Recovery Act through the Office of the National Coordinator for Health Information Technology (IT) to provide support to health care providers and hospitals to help them meet meaningful use requirements.
Learn more about other Recovery Act-funded Health IT stories: