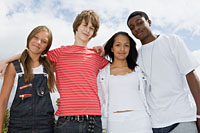 Alcohol & Other Drug Use
Alcohol and other drug use among our nation's youth remains a major public health problem. Substance use and abuse can increase the risk for injuries, violence, HIV infection, and other diseases.
Data & Statistics
Youth Risk Behavior Surveillance System (YRBSS)
The YRBSS monitors behaviors that contribute markedly to the leading causes of death, disability, and social problems among youth and adults in the United States.
School Health Policies and Practices Study (SHPPS)
SHPPS is a national survey periodically conducted to assess school health policies and practices at the state, district, school, and classroom levels, including those related to alcohol and drug use.
Related Resources
Health Education Curriculum Analysis Tool
The Health Education Curriculum Analysis Tool (HECAT) can help school districts, schools, and others conduct a clear, complete, and consistent analysis of health education curricula based on the National Health Education Standards and CDC's Characteristics of Effective Health Education Curricula. The HECAT results can help schools select or develop appropriate and effective health education curricula and improve the delivery of health education to address alcohol use, drug use, and other health education topics.
Registries of Programs Effective in Reducing Youth Risk Behaviors
Programs identified by federal agencies as worthy of recommendation on the basis of expert opinion or a review of design and research evidence, including programs focused on alcohol and other drug use.
Contact Us:
Division of Adolescent and School Health
4770 Buford Hwy, NE
MS K29
Atlanta, GA 30341
800-CDC-INFO
(800-232-4636)
TTY: (888) 232-6348
Hours of Operation
8am-8pm
ET/Monday-Friday
Closed Holidays