The Library opens an exhibition examining concepts of health and medicine among contemporary American Native populations.
A new exhibition examining concepts of health and medicine among contemporary American Indians, Alaska Natives, and Native Hawaiians, is open and free to the public at the National Library of Medicine, part of the National Institutes of Health.
Native Voices: Native Peoples' Concepts of Health and Illness, explores the connection between wellness, illness, and cultural life through a combination of interviews with Native people, artwork, objects, and interactive media.
"This is a unique exhibition, dedicated to raising awareness of the historical and contemporary concepts of health and wellness among American Indians, Alaska Natives, and Native Hawaiians."
—Dr. Yvette Roubideaux, U.S. Indian Health Service
The National Library of Medicine has a history of working with Native communities as part of the Library's commitment to make health information resources accessible to people no matter where they live or work. The Native Voices exhibition concept grew out of meetings with Native leaders in Alaska, Hawaii and the contiguous United States.
"This exhibition honors the Native tradition of oral history and establishes a unique collection of information," says Donald A.B. Lindberg, MD, director of the National Library of Medicine. "We hope visitors will find Native Voices educational and inspirational, and we hope Native people will view it with pride. The Library is excited to open this exhibition, and to do it during our 175th anniversary year."
Topics featured in the exhibition include: Native views of land, food, community, earth/nature, and spirituality as they relate to Native health; the relationship between traditional healing and Western medicine in Native communities; economic and cultural issues that affect the health of Native communities; efforts by Native communities to improve health conditions; and the role of Native Americans in military service and healing support for returning Native veterans.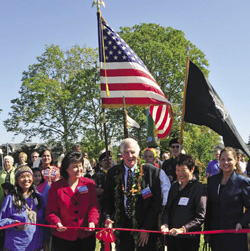 "Native Voices" Exhibition Opens
Guests gather for the ribbon-cutting ceremony to open the National Library of Medicine's exhibition on "Native Voices: Native Peoples' Concepts of Health and Illness" on October 5, 2011. From left to right are Ralph Foquera, Executive Director, Seattle Indian Health Board; Maynard Eaken, Alaska Native elder; Katherine Gottlieb, President, Anchorage, Alaska Southcentral Foundation; Yvette Roubideaux, M.D., M.P.H., Director, Indian Health Service; Donald A.B. Lindberg, M.D., Director, National Library of Medicine; Virginia Tanji, Chair, NLM Board of Regents; Cynthia Lindquist, President, Cankdeska Cikana Community College; and Native American dancers.
A Dual Vision of Health Care
"As a Harvard-trained physician and a member of the Rosebud Sioux Tribe, I have a dual vision of Native health care," says Yvette Roubideaux, M.D., M.P.H., Director of the U.S. Indian Health Service, "seeing the importance of both traditional medicine and modern technology in healing and promoting wellness among Native people."
Although improvements have been made in the health status of American Indians and Alaska Natives, health disparities continue to persist for Native Americans compared to other populations, notes Dr. Roubideaux.
"For instance, life expectancy is still more than five years below that for the general population," she says. "Diabetes mortality rates are nearly three times higher, and suicide rates are nearly twice as great.
"We are grateful for this exhibit, as it will help to educate the general public, legislators, and researchers about the health challenges in Indian Country and the need for appropriate resources and knowledge to meet those challenges."
Nainoa Thompson (most right) learned the art and science of non-instrument navigation of ancient double-hulled voyaging canoes that were used for long-distance travel across the Pacific Ocean. Today, the Polynesian Voyaging Society reconnects Native Hawaiian youth to their natural environment by giving them sailing opportunities that reawaken their observational skills, and help them understand the value of nurturing their own spirituality and physical well being.
In 1976, the ancient tradition of voyaging was revived with the 60-foot Hokulea canoe. Pictured with builder Tay Perry (right) is a 10-foot model of the Hokulea that was constructed in Honolulu for the exhibition using authentic Native materials. Located in the lobby of the Library, it serves as the entry point for visitors to the exhibition.
In the exhibition, learn how diverse lifestyles and shared experiences have helped sustain the health and well being of Native populations for generations.
To make the Native Voices information accessible to people who can't come to the Library, there is an online version of the exhibition at www.nlm.nih.gov/nativevoices. The Library hopes to develop a travelling version consisting of a series of banners with information.
For people interested in Native health issues in general, the Library's collection of free online information contains material on Native health including:
Healing Images
The "Native Voices" exhibition includes interactive touch-screen technology, with interviews conducted by Library Director Dr. Donald A.B. Lindberg, and videos, such as this image from a Native healing ceremony video. Native Voices speak of the responsibilities of individuals and the interconnectedness of communities, of reverence for Nature, tradition, and the Great Spirit. You will also hear about the challenges and opportunities of balancing traditional healing with Western medicine.