A Presidential Visit

| | |
| --- | --- |
| | Wednesday, September 30, 2009 |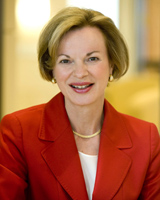 President Obama and Secretary Sebelius traveled to the NIH today to announce the unprecedented $5 billion that has so far been allocated to biomedical research through the American Recovery and Reinvestment Act. In his speech, the President singled out heart disease as an area that will benefit from an intense, stimulus-funded research focus.

Referencing ongoing work in the Framingham Heart Study, President Obama said:

"Now, we have a chance to study the DNA of these participants and connect what we know after decades of observation to what we'll soon know about their genetic makeup. And perhaps we can identify those who are likely get high blood pressure or high cholesterol and find ways to intervene before heart disease even develops."

The President's remarks highlighted the much-needed jumpstart that the stimulus project has given to science, including one of six NIH "signature" grants also announced today: the NHLBI's Large-Scale DNA Sequencing Project. Using Recovery Act funds, this ambitious project will study DNA gathered from more than 8,000 people who have participated in NHLBI-sponsored population studies of heart, lung and blood diseases.

One of the institute's first "Grand Opportunity" or "GO" grants, the Large-Scale DNA Sequencing Project is the NHLBI's largest single-capital investment of the $750 million Recovery Act allocation. The $63 million project comprises six awards to researchers at five academic institutions and promises to employ hundreds of researchers. Over the next two years, collaborators will work to uncover genetic factors influencing these widespread and too often fatal diseases and to bring us closer to an era of personalized medicine.

Watch this journal for more discussion from my colleagues and me about GO, Challenge, and expanded-payline research grants.


President Obama addresses members of the NIH community at Masur Auditorium in the Clinical Center, September 30, 2009. (NIH Photo/Ernie Branson)


Leadership Journal Archive
September 2009