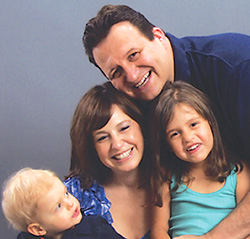 Jay Hobby's Tips for Taking on Gout
Somewhere high over the Atlantic on a flight home
to Baltimore from Israel, Jay Hobby began to feel increasing warmth and severe pain in his right ankle and big toe. "Somehow I broke my toe," the 46-year old management consultant recalls thinking.
But a visit to an orthopedist resulted in a diagnosis of gout. At home, a quick search on the Internet about "problems with toes" pointed to gout. And a call to his mother confirmed a family history of this painful form of arthritis. "Three of your grandfather's six brothers had it," she said. Hobby has been coping with gout for six years now.
"The biggest challenge is not knowing you're having a gout attack at first and, by then, you're behind the curve," Hobby says. Despite being advised to watch his diet, keep hydrated, and exercise regularly, he didn't get serious about managing his gout until September 2009. That's when his son was born prematurely out of town, and he couldn't see him for three days because he was in bed with a severe gout attack.
"Something had to give," he recalls. And it did. Through careful attention to his diet—"less red meat and sugar, many more vegetables"—regular exercise and consistent monitoring, he has not had an attack of gout for more than a year.
Hobby's top tips for living healthily with gout are:
Drink plenty of water and other fluids, especially black cherry juice;
Eat less meat and more vegetables;
Exercise regularly; and
At the slightest sign of an attack, begin your gout treatment.
The first six hours are crucial!
Getting the Diagnosis Right
When the pain along the top of Lance Elko's right foot grew severe enough, he went to see a podiatrist. After taking an X-ray of the foot, the podiatrist announced that there was a structural problem in the ball of Elko's foot. Surgery or a shoe insert was suggested.
But the diagnosis was wrong. "It just so happened that a week later I had an appointment with my regular doctor," says Elko, a 61-year-old magazine editor and professional guitarist who lives in Greensboro, North Carolina. "He looked at my feet and asked if certain things hurt. And then he said, 'I think you've got gout. Let's do a test.'"
Elko's doctor gave him two colchicine tablets—an anti-gout drug—and two days later the pain was gone. But finding a permanent cure to prevent recurrences proved elusive. It would be three years of trial and error with different medicines before his doctor hit on what Elko calls the "magic bullet."
"What cured me was probenicid and really staying hydrated," says Elko. "I haven't had an attack for the last five years."
Before the probenicid, Elko had recurrences over several years. "It moved mostly to the joint in the big toe of my right foot, which is a common spot for gout to attack," he says. "Then it developed in one elbow. When it comes and goes like that, you never know when the next attack will be. It would usually be at night, and I'd go, 'Oh, boy, here it comes.'"
Although Elko's older brother and a nephew have experienced symptoms of gout, neither of his parents nor any of his nine uncles have had any symptoms.
"My doctor saved the day, when he correctly diagnosed the gout," says Elko.
NIHSeniorHealth Video: Living with Gout

To see a free, short video on living with gout, visit the NIHSeniorHealth website. Click on the link to "Gout" in the videos list at this address: http://nihseniorhealth.gov/videolist.html