Apps
This page highlights selected high-value education web-based and mobile applications. These applications encompass a variety of topics including data visualization, data search tools and classroom learning resources. When you click on the images or titles below, you will be leaving the Data.gov website.
Learning Registry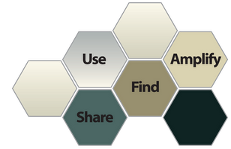 The Learning Registry is a set of tools and applications designed to help share education resources between websites and provide data on how they are being used in classrooms. The Learning Registry is distributed as open-source software, to facilitate the exchange data between resource creators, publishers, curators and consumers. It can be used to share education resources such as web pages, videos and multimedia content; ratings, reviews and comments; and alignment to education standards. Click here to learn more about the Learning Registry and how it can empower your applications with better access to educational content and usage data. The Learning Registry is a joint effort by the U.S. Department of Education and U.S. Department of Defense, as well as numerous partners from state/local government, industry and non-profit organizations.
Mobile Apps
These apps are available on your mobile device, some are available in only a single format and others in multiple formats. Each icon links to the appropriate format when available. A "mobile web" app is designed for optimum use over your mobile device through it's built-in web browser.