NEWS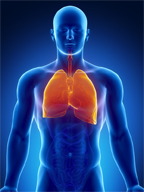 Five new studies have identified genetic and epigenetic alterations in hundreds of lung tumors, including many changes that could be targeted by drugs that are already available or in clinical testing.
The reports, all published this month, included genomic information on more than 400 lung tumors. In addition to confirming genetic alterations previously tied to lung cancer, the studies identified other changes that may play a role in the disease. Read more > >
COMMENTARY
by Dr. Howard Koh
The assistant secretary for health describes efforts to by the Department of Health and Human Services to reduce tobacco use among young adults.

The University of Washington oncologist and ENCODE investigator discusses the Encyclopedia of DNA Elements (ENCODE) results and what they could mean for cancer research.
IN DEPTH
The GTEx project could help researchers study how genetic changes cause cancer and other diseases

Studying individual cells may lead to better understanding of cancer

Will a biological agent improve outcomes for patients with concurrent Kaposi sarcoma?
UPDATES
Task Force Reaffirms Recommendation against Ovarian Cancer Screening

FDA Approves Imaging Agent that Helps Detect Prostate Cancer
Drug for Advanced Prostate Cancer Approved
FDA Approves New Drug to Treat Chronic Myelogenous Leukemia

Cancer Classroom Webinar: Culture and Literacy
Call for Applications: NCI Clinical Assay Development Program
New Brochure Educates Patients about Biospecimen Donation

MULTIMEDIA

Researchers with the NCI cancer Human Biobank describe how donated tissue is collected, processed, shipped, and analyzed for the Genotype-Tissue Expression project.
Go to Video
Selected articles from past issues of the NCI Cancer Bulletin are available in Spanish.
The NCI Cancer Bulletin is produced by the National Cancer Institute (NCI), which was established in 1937. Through basic, clinical, and population-based biomedical research and training, NCI conducts and supports research that will lead to a future in which we can identify the environmental and genetic causes of cancer, prevent cancer before it starts, identify cancers that do develop at the earliest stage, eliminate cancers through innovative treatment interventions, and biologically control those cancers that we cannot eliminate so they become manageable, chronic diseases.
For more information about cancer, call 1-800-4-CANCER or visit http://www.cancer.gov.
NCI Cancer Bulletin staff can be reached at ncicancerbulletin@mail.nih.gov.