Caregiving
If you're one of the nearly 66 million Americans caring for an aging, seriously ill, or disabled family member or friend, we're here to help make your life a little easier.
Caregiver multimedia
Tips for making a hospital to home transition

Caregivers and experts offer advice on preparing a home for people who have been hospitalized.

View more videos

Planning for a discharge

Information for caregivers of individuals who are discharged from a long-term care facility.

View more videos

Caregiver medication transitions

The importance of medication management and the role of family caregivers.

View more videos
Features
Caregiver stories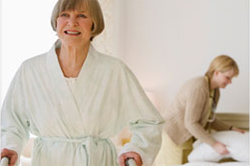 Read caregiver stories about their approaches to address the many challenges of caregiving.
Read stories
Caregiver e-newsletter
This free, electronic newsletter offers Medicare updates and other resources for caregivers.
Sign up for our e-newsletter
Additional caregiver resources
Get targeted information and tools to assist caregivers.


Find additional resources