You are here:
For Scientific Researchers
Funding Opportunities
Research at NIAMS
NIAMS 25th Anniversary Scientific Symposium
American Recovery and Reinvestment Act
NIAMS: National Institute of Arthritis and Musculoskeletal and Skin Diseases Home Page
Our Research Focus
Studies Seeking Patients
NIAMS Highlights
NIH Osteoporosis and Related Bone Diseases ~ National Resource Center
Ana's Story, a bilingual booklet on sports injuries
When Ana injures her knee playing soccer, she and her family learn about treating and preventing sports injuries. Each booklet has an English and a Spanish version.
Red in the Face: Understanding Rosacea
Some people think of a rosy complexion as a sign of good health. But red patches on the face may point to something more troubling—a long-lasting skin disorder called rosacea.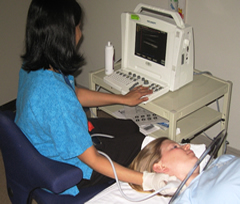 Multimedia
Audio
Alopecia Areata, Fast Facts
Time: 09:02 | Size: 8.5 MB