SAMHSA News Release
Date: 9/25/2012 10:00 AM
Media Contact: SAMHSA Press Office
Telephone: 240-276-2130
SAMHSA awards up to $6 million in grants for Teen Court Program

Ten
Teen Court Program grants totaling up to $6 million over the next three years will provide substance abuse treatment services and related recovery support services to youth with substance abuse and/or co-occurring treatment needs involved in a teen court program.
The funding is from the Substance Abuse and Mental Health Services Administration (SAMHSA).
The services are designed to support partnerships between teen court programs and community-based treatment and recovery services. It is part of SAMHSA's efforts to divert youth with substance abuse treatment needs from further criminal behavior.
"While SAMHSA works to prevent the onset of drug abuse in teens and young adults, we also work to make sure that teens who do have a substance use disorder get treatment when they need it, rather than a stint in the juvenile justice system," said SAMHSA Administrator, Hyde. "Teen courts not only improve the teen's chances of recovery from substance abuse, but they also help reduce the burden on the criminal justice system." 
The 10 awardees will receive up to $200 thousand per year for up to three years.  The actual award amount is subject to the availability of funds.
The following is a list of grant awardees and their first year grant amounts:
| | |
| --- | --- |
| Child and Family Charities, Lansing, Mich. | $197,155 |
| Human Services Associates Inc., Winter Park, Fla. | $200,000 |
| Serving Children and Adolescents in Need, Laredo, Texas | $200,000 |
| Pima Prevention Partnership in Tucson, Ariz. | $200,000 |
| PAACA Inc., New Bedford, Mass. | $199,996 |
| Vermont Village Community Development Corp., Los Angeles | $200,000 |
| THRIVE, Lewiston, Maine | $199,012 |
| City of Jacksonville, Fla. | $199,961 |
| Council on Alcoholism and Drug Abuse, Santa Barbara, Calif. | $199,787 |
| Nicasa, NFP, Round Lake, Ill. | $200,000 |
For more information on fiscal 2012 SAMHSA grants, visit http://www.samhsa.gov/grants/
---
SAMHSA is a public health agency within the Department of Health and Human Services. Its mission is to reduce the impact of substance abuse and mental illness on America's communities.
---
Last updated: 9/25/2012 10:06 AM
Connect with SAMHSA
Get connected with SAMHSA by following us through these services:
SAMHSA Newsletter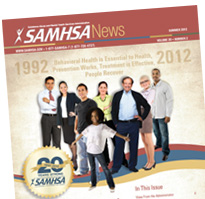 SAMHSA Newsletter