We are pleased to announce the availability of the Data.gov GEO Viewer, an interactive mapping tool designed to let users preview geospatial data available through the Data.gov catalogs. Using this tool, you can immediately view datasets on an interactive map, overlay them with other datasets, and investigate the underlying data. While not a full featured Geographic Information System, this new capability allows users to quickly determine whether datasets in the Data.gov catalogs are suitable for their needs before taking the time to download them for further exploration and use.
To get started, simply click on the "Preview" link where it appears on a dataset's metadata page. Please note that not all geospatial data in the Data.gov catalog is available for preview at this time. The Preview link is included for those datasets that are currently supported.
Clicking the Preview link will bring up the GEO Viewer window, and after a few moments, the dataset will be ready for viewing. You may return to the Data.gov catalogs to search for more data that can also be previewed in the same GEO Viewer window allowing for quick and easy mashup of multiple data layers from the Data.gov catalogs. In the example below, multiple environmental datasets from the New England area are presented in the GEO Viewer.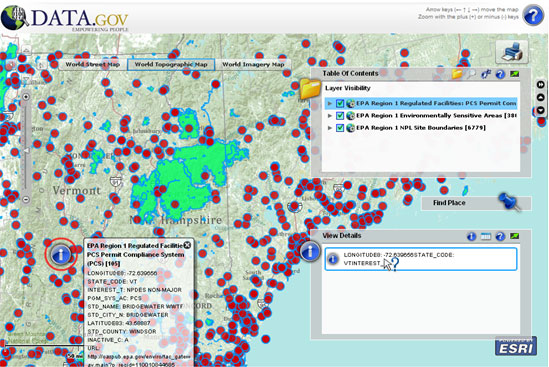 Help is available from the upper right corner of the GEO Viewer, just click on the question mark icon to get information on how to use all of the tools that are available to you.
We hope that you find the Data.gov GEO Viewer to be a useful tool in helping you search for, use, and understand the geospatial data holdings of Data.gov. Please give us feedback on the Viewer, and let us know what new features and tools you would like to see in the future.