Print Friendly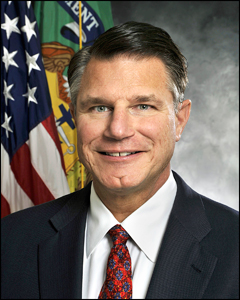 Richard A. Peterson
Deputy Director
United States Mint
Richard A. Peterson was named Deputy Director of the United States Mint on January 25, 2011. A member of the Mint team since October 2008, Mr. Peterson served as Associate Director for Manufacturing prior to assuming his current position.
The United States Mint is the world's largest manufacturer of coins, medals and numismatic products. Headquartered in Washington, DC, it has operating facilities in Denver, Philadelphia, San Francisco and West Point, New York, and has responsibility for the U.S. Bullion Depository at Fort Knox, Kentucky.
Mr. Peterson has an established career in the manufacturing sector, having worked in various senior manufacturing positions for nearly 20 years.
Prior to joining the Mint, Mr. Peterson served for eleven years as an executive for the General Electric Company, working in the company's healthcare business. He served in several senior supply chain roles with responsibilities in negotiations; supplier selections; acquisition integration; supplier performance; and productivity.
From 1996 to 1998, Mr. Peterson worked for the Building Materials Holding Corporation, a manufacturer and retailer of building materials, directing all aspects of the mergers and acquisitions function. From 1992 to 1996 he served as Director of Technical Services for ASARCO, Inc., an international mining company, and was responsible for the company's research and development; engineering; and environmental functions.
A former U.S. Naval officer, Mr. Peterson was a nuclear-trained submariner and served on active duty from 1981 to 1992. He is a graduate of the U.S. Naval Academy and holds a MBA degree from Harvard Business School.
Mr. Peterson and his wife, Lois, have been married for 30 years and have three children.
See also our list of all past Directors of the Mint.