Frances M. Harding
Director, Center for Substance Abuse Prevention (CSAP)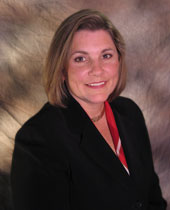 Frances M. Harding serves as Director of the Substance Abuse and Mental Health Services Administration's (SAMHSA) Center for Substance Abuse Prevention (CSAP), and is recognized as one of the nation's leading experts in the field of alcohol and drug policy. CSAP provides national leadership in the Federal effort to prevent alcohol, tobacco, and drug problems. As part of an Executive Leadership Exchange within SAMHSA, Director Harding recently served as Director of SAMHSA's Center for Mental Health Services (CMHS) from July 2010-January 2011. CMHS leads Federal efforts to treat mental illnesses by promoting mental health and by preventing the development or worsening of mental illness when possible.
Director Harding also serves as the lead for SAMHSA's Strategic Initiative on the Prevention of Substance Abuse and Mental Illness, which will create prevention prepared communities where individuals, families, schools, faith-based organizations, workplaces, and communities take action to promote emotional health and reduce the likelihood of mental illness, substance abuse including tobacco, and suicide.
Prior to Federal service, Director Harding served as Associate Commissioner of the Division of Prevention and Recovery at the New York State Office of Alcoholism and Substance Abuse Services, where she was responsible for the development of policy and guidelines for alcohol and drug abuse and gambling prevention, treatment, and recovery programming.
Director Harding has held numerous national positions and received recognition from her peers for her work, including serving as president of the National Prevention Network, an organization representing the alcohol and other drug abuse prevention offices in all 50 States, and as New York State's representative to the Board of Directors for the National Association of State Alcohol and Drug Abuse Directors, Inc. In 2004, she became the first non-researcher to receive the prestigious Science to Practice Award from the International Society for Prevention Research.
Last updated: 1/21/2011