CDC Command Center—Take a look behind-the-scenes at the command center and staff responsible for coordinating emergency response to public health threats.
Listeria Outbreak— Last year, cantaloupes contaminated with the bacteria Listeria monocytogenes caused the deadliest foodborne disease outbreak in the United States in nearly 90 years.
Foodborne Illness—Reducing foodborne illness by 10% would keep 5 million Americans from getting sick each year.
CDC is the nation's health protection agency, working 24/7 to protect America from health and safety threats, both foreign and domestic. CDC increases the health security of our nation.
CDC Grants and Cooperative Agreement Funding Data
Approximately 70% of CDC's funds go to support state and local communities to save lives and protect people. These 2010 funding profiles include grants made to groups within states and territories (e.g., health departments, national public health organizations, universities). Also included is the dollar value of vaccines provided through the Vaccines for Children Program.
CDC supports the health of responders and others affected by the 9/11 attacks.
CDC administers the government's program to provide health monitoring and treatment for responders and others harmed by the Sept. 11, 2001, terrorist attacks, stimulates new research on health effects associated with the attacks, and anticipates the long-term health needs of those we serve. For more information on the program go to: http://www.cdc.gov/niosh/topics/wtc/.
Get email updates
To receive email updates about this page, enter your email address: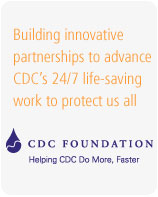 Contact Us:
Centers for Disease Control and Prevention
1600 Clifton Rd
Atlanta, GA 30333
800-CDC-INFO
(800-232-4636)
TTY: (888) 232-6348