Donations to the National Library of Medicine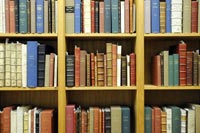 Can the National Library of Medicine (NLM) accept donations?
Yes, although the National Library of Medicine (NLM) is a federally-funded organization, it is authorized by the US Congress to accept bequests and donations in support of its mission. NLM does not solicit funds or in-kind gifts or participate in fund raising activities. All gifts must be entirely voluntary.
How does the process work?
Donations reach NLM through its "Gift Fund" accounts, which are separate from the appropriation that the Library receives from Congress for basic operating expenses and administrative costs.
Are my gifts tax-deductible?
Gifts made to NLM without limitation or for any of its public purposes are tax-deductible as charitable contributions under Section 170(c) of the Internal Revenue Code of 1986, as amended. Prospective donors should, however, consult with their tax advisors in advance.
How are donations used?
The activities supported through NLM Gift Funds may vary from year to year, depending on the needs of the Library. Here is a partial list of programs and services that might be supported by Gift Funds:
Acquisition of rare and unique materials
Digitization of historically significant materials
Support of special exhibitions with health and humanistic themes; these may be displayed at NIH or tour the nation, or both
Outreach efforts that bring Library resources to people in underserved communities
Scholarly programs, including lectures, conferences, symposia with visiting scholars, professional visitor exchanges, and workshops on topics of special importance to the field of bioinformatics
How can I donate to NLM?
Contributions can be made to NLM by sending a check or money order payable to "The National Library of Medicine" to:
Director
National Library of Medicine
Building 38, Rm 2E17
8600 Rockville Pike
Bethesda, MD 20894
Please enclose a letter with the check, indicating that the donation is to be used to support the activities of the National Library of Medicine.
Can I make a donation in memory or honor of a person, or as a bequest in a will?
Yes. Donations can be made in memory or honor of an individual or group. The donation letter should include the name of the person who is being remembered or honored, along with the name(s) and address(es) of the individual(s) (honoree, spouse, family member, etc.) to be notified of the donation. Dollar amounts are not included in the letter(s) of acknowledgement.
Can I make donations for a specific type of project or activity?
Yes. Gifts may be unconditional (e.g., "to the National Library of Medicine") or conditional (e.g., "to support the NLM Profiles in Science digital library research program"). Unconditional gifts are used to support Library activities as determined by the NLM Director. Conditional gifts can be designated for a specific type of project, program or research activity. This request should be specified in the donation letter.
What if I want to donate rare manuscripts, medical books, journals, periodicals or other materials to NLM?
NLM welcomes donations that support our mission of preserving biomedical treasures and making them accessible to the public. Please visit our Web pages for more information on how to donate materials to the NLM collection:
Books and Journals for NLM's Current Collection (Books 1914 to present and Journals 1871 to present): http://www.nlm.nih.gov/services/gencolldonate.html
Books and Journals for NLM's Historical Collection (Books before 1914 and Journals before 1871): http://www.nlm.nih.gov/hmd/about/donate.html
What if I have additional questions?
Please contact:
Ms. Darlene Dodson
Director, Office of Financial Management
National Library of Medicine
Building 38, Room 2W10, MSC 3815
8600 Rockville Pike
Bethesda, MD 20894
Phone: 301.496.6658
Fax: 301.496.2903
E-mail: dodsond@mail.nlm.nih.gov