Testing Documents for Section 508 Compliance
ASPA Web Communications and New Media Division
Course Overview
The goal is to teach you how to test Documents for Section 508 Compliance.
This course is targeted to individuals who receive or approve electronic documents.
This course does NOT teach how to correct errors in documents, or to test for non-text (e.g. audio and video documents)
Testing Documents for Section 508 Compliance
Each time you receive an electronic document, ensure that it is accessible.
Use of acquisition language ensures that at least one version will be accessible
Send a non-compliant document back to its creator for remediation!

Especially when working with non-departmental staff and consultants.

Documents that are submitted as part of the proposal cycle and as project deliverables (monthly reports, change requests) must meet Section 508.
Course Overview
Course Objectives
Upon completion of this course, the learner will be able to:
Identify common document elements required by HHS for compliant documents
Identify HHS Best Practices for document creation
Test documents for:

Document structure and reading order
Non-text images
Other document elements

Implement a variety of tests, including:

Manual tests
Automated PDF tests
MODULE 1
Common Document Properties
Common Elements Required By HHS
When testing, determine that:
Document properties for Title, Author, Subject, Keywords, and Language are properly filled out.
All Comment and Markup items are deleted.
No hidden data is present.
Color is not the only method used to convey important information.
There are no flashing/flickering or animated elements.
All images and/or non-text elements have alternative text descriptions.
All charts and graphs have either an alternative text description or provide a description in the text immediately below the chart/graph.
Data tables identify row and column headers.
Data cells in tables are associated with row and column headers.
There are no merged cells in tables (Word.
All tables read from left to right and top to bottom.
All hyperlinks are active and use the fully-qualified URL, e.g., http://www.hhs.gov/ (not simply www.hhs.gov).
Delete or remove tracked changes and previous version information" to the general requirements.
Document Properties – HHS Best Practices
Slide Properties Summary tab

Names document author for ownership and keywords
Accessible Documents are Structured Documents!
A document that is well-structured and logically organized can easily be:

read and navigated by Assistive Technology
exported to other applications, with minimal adjustment to maintain accessibility.

Success depends upon:

a clear, hierarchical structure
use of reliable publishing tools
use of functionality/enhancements provided by Microsoft, NetCentric and Adobe geared toward compliance with Section 508
MODULE 2
Testing Microsoft Word Documents
Overview of Word Testing
This Module covers testing Microsoft Word documents for:

Styles used for document structure

Simple tests for headings

Reading order
Tables
Images
Charts
Hyperlinks
Accessibility Elements to Test
Styles
Text elements, format and spacing

Color
Styles – bold, italic, underline
Page numbers
Numbers in bulleted styles

Non-text elements
Select the desired text
The highlighted text shows its formatting in the toolbar field
Test Text Formatting
Do not pass documents that rely on bold or italic font instead of styles for headings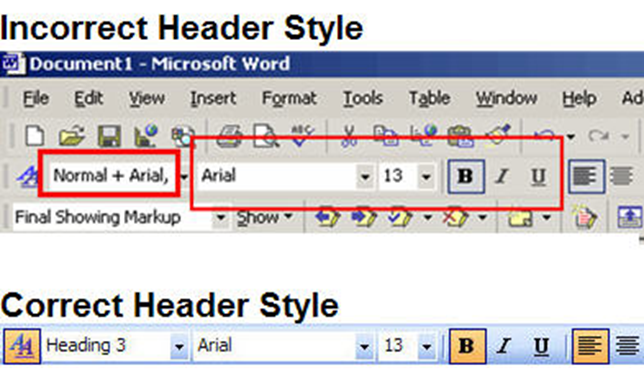 Check that headings are different from the body text.

Different type size and different font.

Check that heading text does not run into body text.

Spacing helps differentiate between headings and body text.
Check Page Numbering
If the document uses page numbers, check to see if they have been automatically inserted in the document

View the document in the Print Layout mode
Page numbers should appear grayed out on either the top or bottom of the document
Here is an easy method to check columns:

Highlight several lines in the left column.
Only text in that column should highlight.

Make sure that the margin between the columns is wide enough to clearly separate them.

The table anchor icon indicates that a table has been properly created in Word
Accessible Table Testing
Column and row headers are labeled

Column headings should appear at the top of each column
If there are row headings should be positioned in the first left hand column
Headings should be short and descriptive

Tables are labeled and described

Captions appear either above or below tables, indicating the number and title of the table
Tables are described in the body text of the document
Check Tables
Check for merged cells in headings and rows
Ensure that tables spanning multiple pages have headings that associate with each page
Captions and alternative text for all images
Images have In line with text wrapping style
No text boxes for simple graphics
No background images or watermarks on a page
Test Images
Test images in the Format Picture Properties menu
From the document:

Right click on the image to retrieve the Formatting menu
Select Format Picture from the menu
Format Picture Properties Menu
Two properties associated with a graphic require testing in order to ensure that the graphic can be read by Assistive Technology.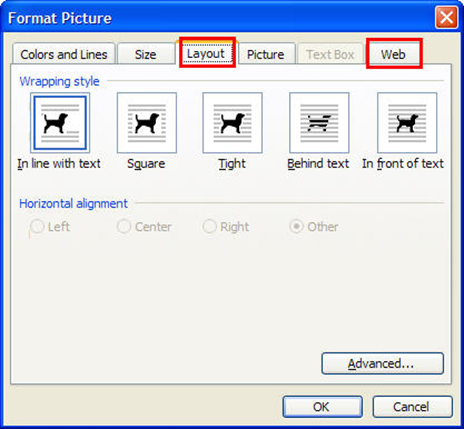 Format Picture – Layout Property Test
Select the Layout tab
Check that the In line with text option is highlighted in the Wrapping style section
Format Picture – Alternative Text Test
Select the Web tab
Check that the graphic has alternative text in the Alternative text box
Decorative or background images should be blank.
FIX Check that Illustrations are Grouped
An illustration created from several smaller images must be grouped to form one object.
Check that alternative text is associated with the grouped object.
Accessible Complex Images
(Diagrams, Charts, and Graphs)
Complex Images require descriptive text

Alt Text should briefly describe image and refer to the location of the long description
Reference description of image in body of document

Check Captions/Labels

Captions appear either above or below images, indicating the number and title of the image
Word Testing Review
Test Table of Contents
Test styles for document structure

Simple Tests for Headings

Test Columns
Test Tables
Test for Images
Test Charts
MODULE 3
Testing PDF Documents with Adobe Acrobat Professional 8.0
Overview of PDF Testing
This Module covers methods of testing PDF documents:

Adobe Automated Testing
Manual Testing

Use the Tab Key to test tab order
Test Reading Order
Test Images for Alternative Text
Test Scanned Documents for OCR

Use Assistive Technology to Test Reading Order
PDF Accessibility
Before a PDF is accessible, it must:

Be properly tagged
Have a logical reading and tab order
Have alternative text for all images and objects
Have a specified language
Have bookmarks linked to the sections of the document for files of 10 pages or more
Accessibility Test Questions
Does the document contain actual text?

Scanned representations of text are not accessible.

Does content follow a logical reading order?
Are tabbed elements placed in a logical tab order?
Has the document been tagged and has a clear document structure been defined?
Has alternative text been appropriately applied to all images, objects and form field elements?
Do data tables contain Column or Row header tags?
Are elements that should be ignored by a screen reader tagged as artifacts?
Are hyperlinks active and linked to the appropriate destination?
Are bookmarks labeled properly and linked to the appropriate destination?
PDF Accessibility Checks
To verify that accessibility conditions are met:

Run Adobe's Accessibility Full Check and Section 508 check.
(Please note that the use of NetCentric's CommonLook Plugin is recommended.)
Manually test for Alt Text and reading order
Use Assistive Technology or Adobe Acrobat reader's built-in screen reader Read Out Loud to test reading order.
Adobe Accessibility Full Check
To select the automatic Full Check option in Adobe Professional:
Select Advanced from the Main menu
Select Accessibility from the Advanced dropdown menu
Select Full Check from the Accessibility dropdown menu

Adobe Accessibility Full Check
Select Create Accessibility Report check box
Use the Choose button to include the report in the same folder as the PDF document
Select Include repair hints in Accessibility Report check box
Select all check boxes in the Checking Options menu; this ensures that the PDF is tested for full accessibility
Select Start Checking button

[We encourage you to run both the "Adobe PDF" check and the "Section 508 web-based intranet and internet information and applications (1194.22)" check. See the "Checking Options" pull-down menu to make the selection.]
Accessibility Full Check Settings
An Accessibility Report will appear on the screen
If additional help is needed, Press the F1 key to launch Adobe Help Viewer
Use the Tab Key to test tab order
Test Reading Order
Test Images for Alternative Text
Test Scanned Documents for OCR
View and Test Reading Order
Select the View dropdown menu from the Main menu
Select Navigation Tabs from the View dropdown menu
Select Order from the Navigation Tabs menu



Select Options
Select Show reading order panel


View Reading Order
| | |
| --- | --- |
| Once the Order Panel is displayed, numbers appear on the document, revealing the document's reading order. | |
Testing for Alternative Text
An image without Alt Text looks like this using the Order tab view
Scanned Documents
Are usually images and not accessible
They need to be recreated and scanned in Adobe Acrobat Professional with OCR activated
Use Assistive Technology or
the built-in screen reader to test the PDF's reading order:

From the View menu select Read Out Loud and then one of the available choices.
Choose either Read This Page Only or Read To The End Of Document
Read Out Loud Screen Reader
Review PDF Accessibility
Testing PDFs for Accessibility

Adobe Automated Testing
Manual Testing

Use the Tab Key to test tab order
Test Reading Order
Test for Alternative Text for Images
Test Scanned Documents for OCR

Use Screen Reader to Test Reading Order
Resources - Government
Resources - Document
MODULE 4
Testing Microsoft Excel
Excel Testing Overview
This Module covers testing Microsoft Excel documents for:

Column and Row Headers
Charts
Images
Comments and Notes
Worksheet Titles
Column and Row Headers must be labeled
Check for merged cells in headings and rows
Ensure that tables spanning multiple pages have headings that associate with each page
Only one data table per worksheet is allowed
Merged cells should be avoided

Check for proper labeling:
All images and charts require alternative text
Alt Text is applied and checked in the same way as Word in the Format Picture menu
Decorative or background images should have no Alternative text
Check that comments and notes are not hidden or are removed.
Notation must indicate when data affects another linked worksheet or file.
Worksheet titles must accurately describe content
Review Excel Tests
Check Excel Document

Column and Row Headers
Check for merged cells in headings and rows
Ensure that tables spanning multiple pages have headings that associate with each page
Only one data table per worksheet

Test Charts for Labels
Test images
Test Comments and Notes
Test Worksheet Titles
MODULE 5
Testing Microsoft PowerPoint
PowerPoint Testing Overview
This Module covers testing Microsoft PowerPoint documents for:

Document Structure
Images
Charts
Tables
Text in a text box will not appear in the Outline View
All Text must appear in Outline View
Test Slide Titles
Create slide titles in a Title Holder, not with a text box
Test by looking at the Outline view
Title Text Box Error
The Title Holder has not been used if no text is next to the slide icon
All Text must appear in Outline View
Test Text
Slide layouts are used for all text
All text should appear in the outline view
Text Box text does not appear in the Outline view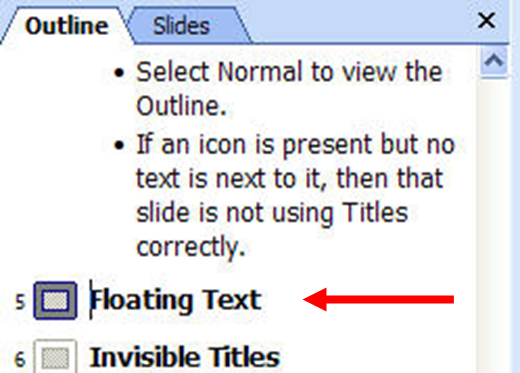 Send back any PowerPoint with:

Flickering and/or flashing text or objects
Animated text or objects
| | |
| --- | --- |
| Graphics must have alternative text unless decorative or background image | |
Grouping Images
An illustration created from several smaller images must be grouped to form one object
Check to see that Alt Text is associated with the grouped object
Check to see that charts were created in PowerPoint
If charts were copied from another program, they are treated as images
Images are not accessible without Alt Text
Test Charts
| | |
| --- | --- |
| Check for: | |
Tables are a layout based on rows and columns
Check that tables were created within PowerPoint
When tables are imported into PowerPoint from another program or source, they are recognized as images

Check for Alt Text to describe tables
Check for a labels
Checking a Table
Check table structure for:
Logical relationships between data
Labeled column and row headers
| | | |
| --- | --- | --- |
| Name | Age | Birthday |
| Jackie | 5 | April 5 |
| Beth | 8 | January 14 |
Review Testing PowerPoint
Test Document Structure

Slide titles created with the Title Holder
Text created only in layout style

Test Images

Alternative Text
Picture Formatting and Grouping

Test Charts
Test for Animation
Tables